Posted at 11:01 am, November 29th, 2006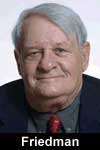 As a former White House correspondent, I know there is an understanding among reporters that questions and stories about the president's children are out of bounds. But this is wartime, Americans are getting killed and maimed along with the innocents in Iraq, so I think it is not out of line to note that the president's twin daughters, Jenna and Barbara, are having a heckuva good time, celebrating their 25th birthday.
On the day of one of their parties in Argentina, Nov. 26, three Americans from Ft. Hood, Texas, were killed in Iraq, including First Lt. David M. Fraser, 25, from Texas, Capt. Jason Hamill, 31, and Pfc. Joshua Burrows, only 20.
No one seriously expects Jenna and Barbara to serve (Bill Clinton's Chelsea was only 15 when U.S. forces were engaged in Solalia and Bosnia), but readers of ABC's blog seem to have some cogent comments. Such as: "These girls are 25, not 15. They ought to stop carrying on like a couple of self-indulgent brats…and grow up. In case these airheads have forgotten, there's a war on and it's not going too well…" Or, "Why are the Bush twins doing nothing to help the war effort? Why are they not raising money for veterans?" Or, "This is a very dangerous situation…with Iraq in civil war now, groups could kidnap them and hold them hostage…This like rubbing salt in the (war) wound…" And, "So much death death at the instigation of the father. Should these daughters be on an international joyride?"
Despite the understanding among reporters, these are fair and public questions for their father, the president.