Posted at 1:32 pm, November 2nd, 2006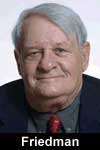 It didn't take long for the conventional wise guys of the media to jump on Sen. John Kerry (D-Mass) for speaking the truth, however awkwardly. But the media types didn't bother looking where they were jumping.
Kerry, addressing a crowd of students, told them something they very well understand: "Education, if you make the most of it, you study hard, you do your homework and you make an effort to be smart, you can do well. If you don't, you get stuck in Iraq."
He said later he was aiming a barb at George Bush. But the Washington Post media column immediately bought the White House line that Kerry had disparaged the American troops. The Media column head was, "There He Goes Again," echoing Ronald Reagan's famous, but empty, line that killed Jimmy Carter in a debate. And the lead: "Will John Kerry do for the 2006 campaign what he did for the 2004 edition?"

The column seemed to hope for exactly that and found a covey of fluttering news colleagues and talking heads who also saw Kerry's remark for more than it was. And, of course, the straight accounts told both sides of the story, leading with either Kerry's apology or the non-veteran Bush unctuously defending his dying troops.
But does anyone remember the kind of kids recruited out of high school by the Marines for this war as depicted in Michael Moore's Fahrenheit 911? A search of Google found a 2004 study showing that more 20-year-olds have died in Iraq than any other age group; surely they had little chance to go to college. Other studies say the average age for those killed in Iraq is 27, relatively old, because many were in the National Guard to make a little extra money. As in Vietnam, about 13 percent were black. I think they would rather be in a classroom.
Finally, my colleagues might have pointed out that most of the men and women in this administration and Congress who sent these young people to their deaths, from Vice-President Cheney on down, used educational deferments to stay out of harm's way.