Posted at 10:51 pm, April 2nd, 2007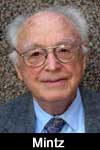 In the better-late-than-never department, David S. Broder has condemned congressional Republicans for their sustained non-oversight of the Executive branch.
"It was a fundamental dereliction of duty by Congress, and it probably did more to encourage bad decisions and harmful actions by executive-branch political appointees than the much-touted lobbying influence," Broder wrote in the Washington Post recently.
Twice in his column, though, Broder dated the dereliction to George W. Bush's arrival in the White House in January 2001. One problem with this is that date. Another is the pass he gives to the see-no-evil, hear-no-evil contribution to the dereliction made by leading news organizations.
"For the first six years of the Bush administration," Broder wrote, "[t]he previously anonymous aides in the White House counsel's office and the political affairs section headed by Karl Rove…were allowed free rein to carry out whatever policy or political assignments they wished–or supposed that the president wanted done. A Congress under firm Republican control was somnolent when it came to oversight of the executive branch. No Republican committee chairman wanted to turn over rocks in a Republican administration.

"You have to feel a twinge of sympathy now for the Bush appointees…They will pay the price for the temporary breakdown in the system of checks and balances that occurred between 2001 and this year–when the Republican Congress forgot its responsibility to hold the executive branch accountable."
In fact, the Republican Congress knowingly and willfully began to abandon–not forget–its oversight responsibilities immediately on taking control of Capitol Hill in January 1995, not January 2001. This is not news to faithful readers of this Web site, which on May 2, 2005, posted a talk I'd given to Washington Nieman Fellows "on the collapse of congressional oversight."
The example detailed in the piece was the Food and Drug Administration. Despite a series of drug disasters that gravely or fatally harmed thousands of Americans, I wrote, the press failed for a decade "to inform the public of the prolonged, corrupt ….abdication of congressional oversight of the agency responsible for the safety of their medicines and of its causes, consequences and implications."
Toward the end, I asked this question "[W]ere the lapses I've described symptomatic of a collapse of congressional oversight–and of press oversight of that oversight–in a host of other areas that bear heavily on national security and our lives, safety, health and pocketbooks?"
It's two years later, but I'm glad David Broder answered the question.