Posted at 4:50 pm, June 29th, 2007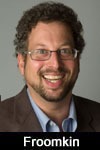 Legendary military correspondent George C. Wilson, writing in his "Forward Observer" column for CongressDaily, raises some essential questions that should be asked about launching an attack on Iran — "before," as Wilson puts it, "it's too late":
"How can you bomb anything nuclear in Iran without spewing radioactive debris into the atmosphere and poisoning it for much of the world? Are you ready for the firestorm of international condemnation that would ensue?

"Do you realize that Iran would be a much bigger quagmire than Iraq for the American military? The CIA's dispassionate World Factbook for 2007 gives Iran's military-aged population, 18 to 49, as 36 million compared to Iraq's 11.5 million. Iran is four times the size of Iraq, 1.65 million square kilometers vs. 437,072 square kilometers. Iran has plenty of reserves of foreign exchange and gold to buy the latest weapons, $58.5 billion compared to Iraq's $15.7 billion.

"The skies over Iran would thus be far from safe for U.S. helicopters and low-flying aircraft because Iran can afford to buy the latest anti-aircraft missiles to shoot them down.

"Where would the additional U. S. military manpower come from if Bush invaded Iran? Just to stay in the fight in Iraq the armed services, particularly the Army, have had to break their moral contracts with thousands of soldiers and extend their tours. Would the draft have to be reinstated?"
Wilson writes that Congress should ask the president and Joint Chiefs those questions. But the press should also be asking — and demanding answers. Before it's too late.