Posted at 11:53 am, September 18th, 2007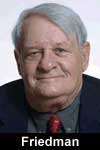 Two of my Nieman classmates (1962-3), the late curmudgeon Pat Owens, and Dan Berger, who retired from the Baltimore Evening Sun, were editorial writers and they despaired at the use of the cop-out cliches of their business: "On the other hand…," "It Remains to be seen…" and Dan's favorite, "It bears watching." The words may vary, but you get the idea. It's a refusal to tell it like it is, or as you see it, to take a stand, make a judgment.
Perhaps it's time for the reporter to do the same, now that modern journalism in most places is done with the myth of objectivity. In fact, beleaguered and bewildered newspapers need to give such freedom or latitude to their reporters as a matter of survival in a journalism that has been taken over by bloggers, good and awful, right- and left-wing interest groups, entertainers who pass as reporters, the 24/7 cable news programs and the Fox News type propagandists for whoever is in power.
Newspapers, with few exceptions, and most of their reporters have better reputations and credibility, or at least they ought to. Yet the so-called Main Stream Press has become an epithet ("MSM") for even the most responsible bloggers and critics. Indeed in my 50 years of journalism, I don't remember such criticism, and from good friends of the press, like Bill Moyers, who took the press apart (except for Knight-Ridder's Washington Bureau) for its failure to sound the alarms and uncover the lies of the Bush administration when it was hell-bent for war in Iraq.

At that time, I was a frequent visitor to my own Newsday Washington Bureau, and here was the pattern I found, which I wager was common elsewhere: One or two investigative reporters were probing for and finding holes in the administration's claims. But the news of each day came out of the Pentagon and White House and they led the paper, day after day, straight stories quoting administration officials or the president or the defense secretary. Only occasionally, did the reporter write, "But critics say," or "some Democrats say." It was the obligatory throw-away line to show the story was fair and balanced. Maybe it was, but it was also wrong. Many of the reporters knew the nation was being led into war and that the reasons were questionable, but they hung onto the bandwagon of war because all they could do with their brand of journalism was to become, in Lenin's words, a "transmission belt."
Many of those reporters with no axes to grind (unlike Judith Miller and Michael Gordon), if they had some decent, dissenting sources, and there were plenty, could have found out what was really going on, but they didn't. They were telling both sides of the story and thus fulfilling journalism's duty. But as Paul Krugman has observed, if the White House proclaims the earth to be flat and the journalist writes, "on the other hand, critics (or Democrats) say the earth is round," reporters have not done their job, telling truth as far as you (and your sources) know it. How can any journalist take seriously, and write without challenge, the politician's proclamation that evolution is but one side of the story? A good science reporter will know more about Darwin than any politician and he or she has the expertise to challenge such ignorance; to do otherwise is dishonest.
In his Washington Post media column Sept. 17, Howard Kurtz wondered why news organizations couldn't take a stand in their reporting. He asked, "Or is there no realistic way to do what critics demand without becoming partisan?" Telling truth, with good, solid reporting, will be called partisan by those who disagree with the conclusions. That has always come with the terriitory. Kurtz quoted blogger Arianna Huffington:"too many in the Washingtonpress corps want to pretend they are leaving the question of 'what is truth' to their readers–refusing to admit there is such a thing as truth…The administration has faith that, because of the way too many in the press operate, all it has to do is sow doubt." Thus we are forced into writing, in effect, "on the other hand,the White House says…"
Nevertheless, if the reporters for Knight-Ridder (now McClatchy) got it right, why not others, especially those for the richest and most powerful newspapers? I would suggest a measure of careerism was at work, going along with the inevitable, rocking no boats, and maintaining official sources for those behind-the-scenes books. The books by Bob Woodward and Thomas Ricks of the Washington Post, among many others, disclosed too long after the fact the lies that got us into this war and plague us still.
Now they tell us? Why can't reporters who cover their beats well and who become as expert as possible in that field–the law, courts, medicine, consumerism, politics, the Congress, even the presidency–write for their newspapers as if they're writing a book or a magazine piece? If they are truly expert, as many reporters are, they need not depend on someone else for a meaningless quote. They should be freed from the constraints of "he said, she said" and provide narrative journalism, which is much more interesting than "on the other handism." And it may come closer to the truth.