Posted at 12:56 pm, November 9th, 2007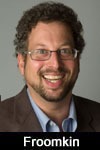 Depending on whom you believe, Vice President Cheney may have already persuaded President Bush that the only effective way to check Iran's political and nuclear ambitions is to launch a military attack sometime before the end of his term – maybe even very soon.
Could members of Congress prevent that from happening? Not if all they do is send letters and pass resolutions full of empty bluster. But a majority of both houses vowing specific consequences if Bush attacks? That might work.
Last week, some 30 senators signed a letter to Bush, declaring that "we wish to emphasize that offensive military action should not be taken against Iran without the express consent of Congress." Also last week, Senator and Democratic presidential candidate Barack Obama proposed a joint resolution to make it clear that the Senate had in no way authorized the use of force when it passed a previous, hawkish resolution about Iran in September. A few days earlier, Democratic Sen. Richard Durbin had proposed his own resolution, which simply states "that any offensive military action taken by the United States against Iran must be explicitly approved by Congress before such action may be initiated."
The obvious question, however, is: Or what?
What will Congress do if Bush attacks Iran without permission? Hold its breath? Thus far, Congress has never once exacted any toll from Bush for defying its will. Without a majority of Congress vowing to take specific steps if Bush acts, their talk about Iran is just that.
Most members of Congress believe that Bush would have to get congressional authority ahead of time before launching military strikes. But it's pretty clear that Bush and Cheney don't think so – especially if there's some sort of provocation which they can say required an urgent response.
The control of money is the strongest power Congress has. So what precisely will it defund if Bush attacks Iran? That's the question we need answered.