Posted at 12:06 am, December 17th, 2007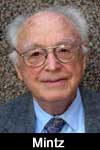 Two one-word questions for presidential, House and Senate candidates are suggested by a Dec. 15 New York Times article.
Here's how David Cay Johnston began the piece, which deserved page A1 but ran on B3:
"The increase in incomes of the top 1 percent of Americans from 2003 to 2005 exceeded the total income of the poorest 20 percent of Americans, data in a new report by the Congressional Budget Office shows."
Fair? Wise?
Second graf:
"The poorest fifth of households had total income of $383.4 billion in 2005, while just the increase in income for the top 1 percent came to $524.8 billion, a figure 37 percent higher."
Fair? Wise?
Third graf:
"The total income of the top 1.1 million households was $1.8 trillion, or 18.1 percent of the total income of all Americans, up from 14.3 percent of all income in 2003. The total 2005 income of the three million individual Americans at the top was roughly equal to that of the bottom 166 million Americans, analysis of the report showed."
Fair? Wise?

Fifth graf:
"Earlier reports, based on tax returns, showed that in 2005 the top 10 percent, top 1 percent and fractions of the top 1 percent enjoyed their greatest share of income since 1928 and 1929."
Fair? Wise?
Fifteenth graf:
"On average, incomes for the top 1 percent of households rose by $465,700 each, or 42.6 percent after adjusting for inflation. The incomes of the poorest fifth rose by $200, or 1.3 percent, and the middle fifth increased by $2,400 or 4.3 percent."
Fair? Wise?
Ok, let's be more prim and proper:
Would you change or continue tax policies that, in 2005, helped to enable 3 million Americans to have combined income of more than 18 percent of the total income of all Americans, and that approximated the combined income of 166 million Americans—55 times as many—at the bottom of the ladder?