Posted at 6:08 pm, January 2nd, 2008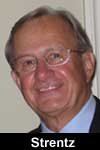 On the eve of the Iowa caucuses, allow me to beat a dead horse and repeat a few points to help keep you sane and the news media reports intelligible as we move into 2008 and eventually elect a President.
The Republican and Democratic caucus results differ in significant ways that the news media often do not report. The GOP reports are more trustworthy, based on one-person, one-vote. The Democratic party results are in "delegate equivalents" – thanks to a confusing way of reporting candidate support. A Democratic candidate may lead the field in "delegate equivalents" – which the news media will report – but be second, third or fourth in popular support, which the news media will not report because the Democrats in Iowa keep those figures secret.
Voter turnout is not all that important on the Democratic side of the ledger because there are only 2,500 "delegate equivalents" to be distributed statewide, and those 2,500 will be distributed if the turnout is 100,000 or 200,000. Also, because delegates are awarded in each precinct based on voter turnout in previous general elections, a precinct with a turnout of 50 may have more delegates to award and a tad more influence in the outcome than a precinct with a turnout of 500 on caucus night.
Given the likelihood that Clinton, Edwards and Obama will be in a race too close to declare an honest to goodness winner, maybe the focus should be on how well Biden, Dodd and Richardson fare. (Kucinich has bailed, asking his supporters to caucus for Obama.)
It's been fun these past several months, and one must marvel at the dedication of candidate volunteers in both parties who provide more optimism for the future of the nation than does much of the campaign rhetoric.
Me? Despite all the misgivings about how the Democratic Party runs things and how the news media miscover some parts of the caucuses, I'll be there in Precinct 9, Urbandale, IA, registering caucus goers as they show up and then hoping that Joe Biden is "viable" – gets at least 15 percent of the support of Precinct 9 – so he might surface on the caucus radar.
Happy New Year.