Posted at 10:33 am, April 21st, 2008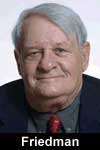 Where is Larry Spivak now that we need him? Alas, Lawrence E. Spivak, creator and founder of NBC's "Meet the Press," and its best panelist, died in 1994 at the age of 93. As The New York Times said, Spivak was one of the first broadcasters to use panels of reporters (imagine!) to interview national and international leaders.
Spivak was a nagging, terrier-like questioner, but he had credentials. He had been publisher of the American Mercury in some of its best days before founding Meet the Press, first on radio, in 1947. There he remained until 1975. "He saw himself as nothing more than a devil's advocate," said the Times. "His style and that of the journalists who regularly appeared on his program stand in sharp contrast to a later generation of television pundits who sometimes use their broadcasting time to express their own opinions."
Notice the use of the word "pundits" rather than journalists or reporters. Which brings us to the current host of "Meet the Press," Tim Russert. Washington Bureau Chief for NBC News, and his network sidekick, Chris Matthews, and their competition at ABC, George Stephanopoulos. They are among the leading "television pundits" of this general election campaign and all have come to their lofty, influential, and well-paying places in what is essentially an entertainment medium by way of another non-journalism endeavor, politics.
That may help explain the train wreck of the Philadelphia "debate" between Sen. Barack Obama and Sen. Hillary Clinton, as well as the celebrity-style campaign coverage that seems more suited to the National Inquirer or the Jerry Springer show–"let's see you and him fight."

Time was when a news person left his/her publication to go to work for a politician, it was rare that he or she could return. That, of course, was meant to guard against even the perception of a conflict, that the reporter or publication favored one candidate or party over another. That was the province of the editorial page, which was and should be walled off from the news side.
During virtually all of my reporting years in Texas, Detroit and Washington, I registered as an independent lest a reader question the credibility of a story because of my political affiliation. Even now, at many newspapers, reporters are discouraged and even prohibited from taking public part in political events.
So how come we've elevated to journalistic punditry and inordinate political influence, three men who came out of partisan politics? Tim Russert, of course, worked for then Gov. Mario Cuomo of New York, and its late senator, Daniel P. Moynihan, before coming to NBC and rising quickly to bureau chef.
Matthews was a longtime spokesman for then House Speaker Thomas P. "Tip" O'Neill and later a part-time columnist for a San Francisco paper before coming to NBC's cable program, "Hardball," where he has voiced his controversial and often outrageous and some say, "sexist," opinions.
Stephanopoulos, who was two years old when John Kennedy was assassinated, was a flack for President Bill Clinton during his first campaign and the White House spokesman early in his presidency before joining ABC.
The three have come under fire from Media Matters and other critics for setting the lowest standards in memory in the coverage of the 2008 campaign. Oddly, although all worked for Democrats, they've been seen as tougher on the Democratic candidates, as if they are seeking to compensate, which is another fundamental reason to avoid even the appearance of conflicts.
I can understand why television producers care little about avoiding conflicts of interest; their business is based on encouraging conflict and confrontation, which appeals to the worst in us, but makes money. Thus the pugnacious, confrontational style of the opinionated entertainers who call themselves and hide behind the mantra of journalists while earning millions. That kind of campaign coverage might as well be called another phony reality show or "Deal or No Deal."
Even the better journalists, like ABC's Charles Gibson, can get out of touch– suggesting once that the "average" teaching couple earns $200,000 and bemoaning during the Philadelphia debate the lack of action in the Congress to lower (his) capital gains taxes.
These television entertainers would never made it as journalist-panelists on the original "Meet the Press," not if someone with the integrity of Lawrence Spivak was in charge.