Posted at 2:24 pm, June 17th, 2008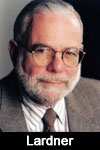 Maybe it's just the fact that I've got some plaque in my arteries, too, but Tim Russert's tragic and untimely death at age 58 raises some unsettling questions that it seems to me the media should be exploring.
The first is: Why should we have any confidence in our health care system? Isn't it time to lay to rest the propaganda that it's the best in the world? Doesn't the public need to know above all that "medical science" involves too much guesswork to be called a real science?
Tim Russert seems to have had what most of us would deem excellent health care. But that's just the point. His internist told MSNBC that he had been diagnosed with coronary artery disease, but it was controlled with medication and exercise. Russert even did well on a stress test he took in late April.
And now he's dead. An autopsy showed that the famous NBC commentator had an enlarged heart and that coronary plaque ruptured an artery, causing coronary thrombosis. There is something wrong with this picture. The media should dig into it and not just shrug and say, well, that's the way it goes sometimes. The annual death rate in the United States, 8.27 per thousand, puts it at No. 105 out of 223 countries, not quite as good as Cambodia (8.16 per 1,000) or Bangladesh (8.00 per thousand ) and far worse than the United Arab Emirates (2.13 per thousand). Average life expectancy here is 78.14 years, making the U.S. No. 47, behind most European countries and far behind the best of the lot, Andorra (83.53 years). Why aren't we getting more for our money?
In Russsert's case, it's quite likely that a fatal bit of plaque broke loose and led to his death. The Wall Street Journal's Melinda Beck had an excellent article in Tuesday's edition , pointing out how this can happen "despite all the advances doctors have made in understanding risk factors, lowering cholesterol with statins and propping open narrowed arteries with stents." Some bloggers have contended Russert should have had an angiogram — a harsh test that sends dye into the coronary arteries so that X-rays can spot blockages — but, as Beck pointed out, he could have had the test an hour before his attack and doctors might not have seen any cause for alarm. The fact is that even moderate amounts of plaque can be dangerous and scientists still don't know what causes those bits to break off and rupture. No doubt they're trying to find out but how far they are from the answers and what research funds are available for the effort remain far below the public's radar screen. We should be reading and hearing more about that than the trivia served up to us each day under the guise of news that we need to know.