Posted at 8:12 pm, August 7th, 2008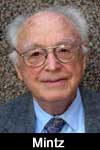 Nearly 35 years ago, the Washington Post front-paged an exposé of systematic and shabby — but then-legal — election-campaign financing by Leon Hess, chief executive officer of Amerada Hess Corp., the East Coast gasoline retailer.
Just the other day, his son John, who succeeded him as CEO, loomed large in a new exposé of the very same kind of systematic — but by now, long-illegal — sleaze. This gives reporters yet another reason to ask presidential and House and Senate candidates whether they would seek tough enforcement of the campaign-finance laws.
"CPA May Have Passed Nixon Gift" was the headline on a Nov. 25, 1973, story by Stephen Isaacs and myself. It began:
NEW YORK–An obscure certified public accountant may have been the main pipeline for $135,000 in secret contributions made by oil tycoon Leon Hess to the Finance Committee to Re-elect the President, a Washington Post investigation has found.

The CPA, in turn, apparently funneled the money through other conduits–his wife, relatives, friends, business associates and a client's widow–who were then listed by the committee for 15 contributions of $9,000 each.

None of the 15 persons claims to have contributed his or her personal funds. And Hess' personal attorney, responding to a reporter's questions, pointedly refused to disclaim Hess as the source of the $135,000.
The CPA was the late Isidore (Irving) Warshauer, the long-time personal accountant of Leon Hess, who died in 1999. The widow of one of Warshauer's clients "was listed for $9,000 at her old address in Yonkers, although she long since had moved to Florida," the Post reported. "'I never gave away any money to anybody for President,' Mrs. [Leigh] Tuvin said in Ft. Lauderdale."I have barely enough to live on.'"
Nine months after the Post revealed the roles of Leon Hess and his employees in financing the Nixon campaign, it reported that he and they were actually bipartisan in financing the 1972 presidential contests. Big-time. Their Democratic beneficiary was the late Sen. Henry M. Jackson of Washington, who was running for the nomination in a field that included Sen. George McGovern. Using the same kind of conduits he'd used to give Nixon $135,000, Hess sent the Jackson campaign $225,000 — about one-fifth of the $1.1 million the candidate had collected in total. This was disclosed by the Senate Watergate Committee, which had requested the information from Jackson's campaign aides.
"Hess contributed to both candidates before April 7, 1972, when an election-financing disclosure law took effect," I reported in the Post on Aug. 10, 1974. "But he made the Nixon contributions after he apparently had concluded — correctly — that Sen. George McGovern (D-S.D.) was destined to head the Democratic ticket." Jackson's presidential campaign treasurer said Hess had told him that he would much prefer to Nixon in the White House because he did not think McGovern "qualified to be President.""
In the 36 years since April 1972, the law has prohibited the use of straw donors. Section 441f of Title 2 is explicit: "No person shall make a contribution in the name of another person or knowingly permit his name to effect such a contribution and no person shall knowingly accept a contribution made by one person in the name of another person."
In 2008, could this have been news to the son of Leon Hess?
A few simple facts lay a foundation for the question: His Amerada Hess Corp. has major offshore drilling and refining operations in the Gulf of Mexico. Offshore drilling in the Gulf of Mexico had been opposed by presumptive Republican presidential candidate John McCain. McCain reversed his opposition to the federal ban on offshore drilling on June 16. In the two weeks immediately following McCain's reversal, oil-industry contributions to his campaign surged.
On Aug. 5, under the headline Oilman greases the skids for McCain, the Los Angeles Times reported that on June 10, six days before McCain's flip-flop,
John B. Hess, a top executive at the oil company with his family name, summoned friends to the 21 Club, a former speakeasy in Manhattan, and delivered $285,000 to John McCain and the Republican National Committee.

A week later, McCain traveled to Texas and announced his support for offshore oil drilling.

Hess Corp. is an East Coast gasoline retailer with major refining and exploration operations, some of which happen to be offshore in the Gulf of Mexico.

Hess was one of half a dozen hosts who tapped friends for the maximum $28,500 donation to the GOP. Others included investor Henry Kravis and hedge fund mogul Paul E. Singer.

McCain spokesman Brian Rogers said there was no link between the money and McCain's stand. "Mr. Hess was fundraising before Sen. McCain made the announcement," he said.
But it "turns out that Hess executives aren't the only ones who gave such huge sums to elect McCain — generosity towards McCain apparently extends down into lower levels of Hess staff," Greg Sargent wrote a day earlier in a post at the "Talking Points Memo" blog. Sargent then continued in a vein that, for me, at least, had a like-father, like-son resonance:
A lower level employee gave the same, too, and so did her husband, even though he works for Amtrak.

The FEC filings show that Alice Rocchio, who's identified as a Hess office manager, and her husband, Pasquale Rocchio, who's described as an Amtrak "track foreman," each separately donated $28,500 to the RNC-McCain fund, which is called McCain Victory 2008. They gave the money on June 24th, the same day that eight other Hess execs and family members each shelled out the same amount.

So the Rocchios, who live in Flushing, Queens, donated a total of $57,000 to McCain's efforts.

I just reached Ms Rocchio and she insisted adamantly that the contributions were theirs.

"It was my option to give," she told me. "This is my favorite candidate…I fully acknowledge that [the donation] was done by myself personally, my own doing." She added that the same went for her husband.

When I pointed out that the Rocchios' job titles seemed to jar a bit with the size of their donations, Ms. Rocchio said that no one could guess the real income levels of other people.

"No one knows what someone's income taxes say," she told me.

Ms. Rocchio declined to say whether the contributions had been bundled by another Hess employee or who bundled them…..

It should also be noted that FEC reports have no record of any Federal political contributions for the Rocchios before 2008. They both gave the maximum of $2,300 to McCain's.
Later that afternoon, Sargent and Eric Kleefeld determined that the Rocchios rented their home, and that the median household income in the Rocchios' zip code is $58,069.
"Hess has clammed up and is refusing to explain what happened," Sargent wrote the next day. I wonder why.
It gets worse. On Aug. 7, Sargent and Kleefeld reported:
It turns out two high-ranking McCain campaign officials, one of whom is also one of McCain's more prolific bundlers, were both paid lobbyists for Hess for roughly three years, according to disclosure forms.

The two lobbyists are Wayne Berman, McCain's national finance co-chairman, and John Green, who's been the McCain campaign's chief Congressional liaison since March. Both men worked for a firm called Ogilvy Government Relations. The firm has been paid $800,000 by Hess from 2005 up to the present, including $720,000 during the period that both of the two lobbied for the company, the forms say.

Berman, a prolific fundraiser and bundler for McCain, appears to still be lobbying for Hess. The most recently filed form shows that he was lobbying for the company as late as mid-July. Green took a leave of absence from Ogilvy to join the campaign, but was still on the Hess account up through the first quarter of 2008, the forms show….

None of the parties involved returned our calls.
And there's more.
"The bundle of $2,300 and $4,600 checks that poured into Sen. John McCain's presidential campaign on March 12 came from an unlikely group of California donors: a mechanic from D&D Auto Repair in Whittier, the manager of Taco Bell stores in Riverside, the owners of a liquor store in Colton," Matthew Mosk reported in the Washington Post. The Aug. 6 story continued:
But the man who gathered checks from them is no stranger to McCain — he shuttled the Republican on his private plane and held a fundraising event for the candidate at his house in Delray Beach, Fla.

Harry Sargeant III, a former naval officer and the owner of an oil-trading company that recently inked defense contracts potentially worth more than $1 billion, is the archetype of a modern presidential money man….

Some of the most prolific givers in Sargeant's network live in modest homes in Southern California's Inland Empire. Most had never given a political contribution before being contacted by Sargeant or his associates. Most said they have never voiced much interest in politics. And in several instances, they had never registered to vote. And yet, records show, some families have ponied up as much as $18,400 for various candidates between December and March….

Donors reached by phone or interviewed in person declined to explain who asked them to make the contributions.
This is what the reporting of the last few days teach us: Not only have new Hessians been recruited to replace those of yore, but, perhaps more importantly, they by no means constitute the whole of campaign-conduit troops. This lends urgency to the need for reporters, as I wrote at the outset, "to ask presidential and House and Senate candidates whether they would seek tough enforcement of the campaign-finance laws."