Posted at 1:56 pm, September 12th, 2008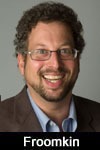 Fact checking the presidential candidates is so 20 minutes ago. The fact is, facts don't seem to matter anymore. Certain political apparatchiks have learned over the years that the effectiveness of a given statement has remarkably little to do with whether it's true or not. How much it gets repeated by others is a much better indicator.
And it turns out that even the "fact-checkers" who repeat the statement in an attempt to rebut it are probably helping deliver the inaccurate message. See brain experts Sam Wang and Sandra Aamodt in their recent NiemanWatchdog.org essay on that subject.
Then there's the fact that most fact-checkers feel obliged to provide balance, citing both side for misstatements even if they aren't vaguely in the same league – and even if some didn't actually come from the campaign. This creates a bizarre incentive system: If you're going to lie, you may as well make it a real whopper. Similarly, after it's been said once, there's no incentive not to keep saying it. Chances are, you'll only get zinged for it at most once per news outlet – even if you repeat it over and over again, long after it's been firmly "rebutted." In fact, it may well sneak back into the coverage, the rebuttal entirely forgotten.
So what's our alternative? Well, one alternative would be to fight back – for the press to create some sort of hugely negative consequence for making stuff up. For instance, to make it the lede of the main story every time a candidate repeats an obviously untrue statement, rather than a one-time-only sidebar deep inside the paper or newscast. But my ever-triangulating colleagues in the media are loathe to do something that makes it look like we're taking sides, even if that side is accuracy.
So here's what I think should be the next big thing, after fact-checking: Call it meta-fact-checking — or worldview checking. Here are some questions reporters should be answering for their readers:
Call this the Bush Memorial Question: How reality-based is the candidate? Does he acknowledge unpleasant realities? Does he think he makes his own reality, and that asserting something that isn't true will sort of make it true? Does he hold many beliefs – say, about Iraq or the economy – that most objective observers would say are not realistic?
Does the candidate say things that the people covering him know he doesn't believe? For instance, is it obvious to everyone in the traveling press corps that he is repeating a line his speechwriters or pollsters have written for him, even though he knows full well it's not true.
Is the candidate exposed to dissenting views – either in public or within his campaign? Does he encourage dissenting views? How hard does the campaign work to keep dissenters out of his way?
Is the candidate ever willing to try to make his case in front of people who don't already agree with him? Is he willing to engage them? Does he tailor his speeches to specific audiences in order so that they will like what they hear? Or so that they will open their minds to views they may not initially share?
How does he respond to people who don't share his views? Does he dismiss them? Does he try to persuade them? Does he listen?