Posted at 12:00 pm, September 12th, 2008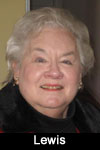 Am I the only person in America who thinks Sarah Palin is SCARY?
That she is a female candidate for vice-president may be different and interesting, but it is a distraction from the essential question: What kind of president would she be if called on to fill that high office?
Briefly unleashed from McCain's apron strings (now THERE'S a sexist metaphor), what she is revealing about herself is frankly chilling. How did she react when she was tapped to be McCain's running mate, she was asked. She didn't hesitate for a moment, she reported. "Yes, I am ready," she said. Not a flicker of doubt. Not an ounce of humility about the burden that might be laid on her.
"You can't blink," she said. "You have to be wired in a way of being so committed to the mission –you can't blink."
Sound familiar? George W. Bush in drag, perhaps?
No time out to consider alternatives, consequences, repercussions. React instantly, from the gut. Don't blink. Just close your eyes and shoot.
No one wants a pussycat (oh dear, another sexist word) to lead us, someone so scared that he or she becomes paralyzed in the face of hard choices. But neither do we want a leader so "wired" in unthinking certitude that she is unable to weigh a matter before deciding.
Note to members of the media: It's time to turn away from mommyhood, and moose-frying and the fact that Sarah Palin is a woman, and look closely at what makes this particular candidate tick. The stakes are too high for anything less.