Posted at 9:11 pm, October 31st, 2008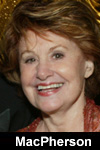 This great and compassionate man was a "writer's writer" and a "reporter's reporter" — someone we all vainly hoped to emulate in his vision and passion for the average man and in the care he took to encourage young writers. He was 96 when he died, and yet it seems way too soon.
His voice was as distinguishable as Jimmy Durante's — and that is really showing my age, but some of you younger folk will just have to take my word for the gravel voice of comedian/actor/singer Durante and his rendition of "Inka Dinka Doo." Studs sounded as if he were not only chewing on cigars but swallowing them at the same time as he growled out his flowing sentences. One day in 2004, after reading a manuscript chapter concerning early 20th century muckrakers in my book All Governments Lie, Studs left a voice message on my phone. He gave his succinct definition of why Upton Sinclair used the title The Brass Check for Sinclair's classic expose of a whoring media in league with the government and high flying financiers. "I'll tell ya what the brass check was. It was when a guy went to a brothel, he paid two dollars — this was before inflation — and the madam gave him the brass check and he would give the brass check to the girl. At the end of the day the girl cashes in her brass checks and she gets paid a half a buck a piece. Sinclair said The Brass Check represents the journalists of that day…Today it's more so. This was before TV and radio. Now it's worse, of course. Ya got that?" All the while Studs was finishing his sentences on the answering machine with "stop" — as in the days when stories were dictated to a re-write man.
When I first met Studs he was holding forth at Riccardo's gin mill in Chicago in the '70s. Listening to Studs was an education in life itself. As a former Chicago newsman, Norman Mark, recalled to me, "I would love to sit with him in Riccardo's and listen; he had been through and triumphed over so much." Mark remembers Studs pointing to the sign in his office at the radio station where he filled the airwaves with smart talk and interviews. It was a headline that read, "Cops Disguised as Robbers Shot it Out With Robbers Disguised as Cops." That, said Studs, "is the essence of Chicago."
Dining one night in the 80s at the Madison Hotel in Washington, Studs peered through the crowded room and said, "Well, whaddaya know, there's Spiro Agnew, dining alone. I almost feel sorry for the guy." Agnew was Nixon's fallen vice president, drummed out of office due to financial scandals. Chicago Studs felt right at home.
In the '80s he signed one of his books for me and did what few famous authors do, scrawled his private home phone number along with the autograph, "to make sure ya don't lose it if ya ever want to talk." The next decade saw the death of his longtime companion and wife, Ida. Studs plunged into the only way he knew how to handle grief and that was to do what he always did. He interviewed average people and distilled their thoughts and, along with his succinct ability to make something special out of the q and a format, produced a moving book on the subject of loss.
Again, he did what many famous authors often do not. He liked a phrase I had used in a book I wrote on illness, loss and grief: I had written that in the United States people expected "drive-by grieving — as if you could deposit your grieving like you do a check at a drive-by bank window and move on." Every time he used it when being interviewed on radio, TV or in newspapers, he gave credit for it. (Satirist Art Buchwald once jokingly gave his own rules for using someone else's line, "you give credit three times and after that it's yours.")
In his last years, Studs was walled in and isolated by the affliction of deafness, but he never lost his enthusiasm and love of life and, most of all, his outrage at injustice. "They talk about the sins of the 'liberal media'", he once bellowed. "What an insult to our intelligence! There is no liberal media today. The muckrakers were the real guys. They exposed everybody.
"Ya got that?!"