Posted at 2:24 pm, October 22nd, 2008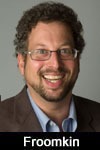 Campaign reporters are watching the McCain-Palin campaign implode in an unseemly orgy of fearmongering. But many of these reporters appear to be holding back their honest assessments, restrained by their sense of fairness and objectivity (not to mention their deep-seated need for a close election to make them feel consequential).
What to do? When fact-checking, the reflex is to do tit-for-tat. When writing issues stories, the tendency is to simply regurgitate both sides and let the reader decide. (Wait, what am I saying? There haven't been any issues stories. Where are all those issues stories we were promised months ago, when we were told it was still too early?)
It seems to me that one essential, deeply telling question reporters should be asking – and answering – is this: What part of our nature are the candidates appealing to in the final stretch?
The obvious — and I would say objective — answer is that McCain and Palin are focusing their campaign on the (presumably focus-group-driven) goal of instilling enough fear and doubt about Obama that voters will flinch in the voting booth. While Obama, whether or not you agree with him, is continuing to deliver a hopeful message and make his appeal to the intellect.
Is there anyone who would disagree with that?