Posted at 9:22 pm, December 7th, 2008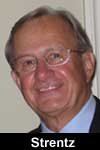 In its most recent wave of Gannett-mandated cuts, the Des Moines Register ended a century-old tradition — one readers most identified with — and gave walking papers to Brian Duffy, one of the few editorial cartoonists in the paper's 105 years.
For more than 100 years the editorial cartoons of Jay (Ding) Darling, Frank Miller and Brian Duffy, along with two short-term fill-ins, graced the front pages of more than 36,500 issues of the paper, winning Pulitzer Prizes for Darling and Miller and acclaim for Duffy. Duffy came on board in 1983, after Miller's death, and the wonder for readers was how the paper could strike gold again — Duffy pretty much picked up the Darling/Miller cartoon personae without missing a stroke of the brush or pen.
But no more. With cutbacks of some 10 percent in payroll, Duffy was among 41 people laid off on Tuesday. In addition, 15 vacant positions will not be filled and four people took severance packages. Duffy was the headliner, the only one identified by name in the paper's story about the layoffs, the lead item in a business summary on the second page of the financial section.
The article noted how editorial cartoonists had become sort of an endangered species. Maybe so, but not for readers of the Des Moines Register. Until now.