Posted at 10:03 pm, December 4th, 2008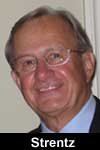 If you buy the argument that victory in the January 2008 Iowa caucuses was significant in getting Sen. Barack Obama elected president — and lots of people do — then it might be logical to argue that in 2012, the Republican caucuses in Iowa could be equally significant for their party's candidates.
Significant, but scary.
Consider some recent goings on and revelations regarding the Iowa GOP.
Bob Vander Plaats is a leader of the Christian right and the GOP in Iowa, pretty much the same thing. In a Nov. 11 op-ed article in the Des Moines Register he introduced his own litmus test for party faithful, a take-off on "What Would Jesus Do?" His test: "Would Jesus vomit?"
Here is part of what he wrote: "…a 'lukewarm' commitment (to Christ) makes Him want to vomit." Further, when voters get a load of a GOP candidate who wants to broaden the party's base "the voter, like Christ, wants to throw up."
The late Marvin Pomerantz was among the saner members of the Iowa GOP. A businessman, a public servant — whose tours of duty included leading the Board of Regents, the governing board of the state universities — Pomerantz was the big funder of the Iowa GOP. Millions and millions of bucks to the party. In his last months, beset by many illnesses, he was state finance chair for Sen. John McCain. And, while it would be overly dramatic to say his dying wish was to attend that national GOP convention in St. Paul, he was dying and he did want to be one of Iowa's 40 convention delegates. But the party leaders slammed the door on him because someone in his extended family had made a contribution to Planned Parenthood.
Steve Scheffler is the Republican National Committeeman for the State of Iowa and also president of the Iowa Christian Alliance. He talked recently of the need to broaden the base of the state GOP. But a former state party official took issue with Scheffler's invite, saying he laughed out loud when he read the comment in the paper, having the bumps and bruises to show from when he was ushered out of the tent.
Early visits to Iowa by would-be candidates, like those by Mike Huckabee of Arkansas and Gov. Bobby Jindal of Louisiana in November, include obligatory visits to the Vander Plaats and Scheffler camps.
So, when January 2012 rolls around, and Iowa Republicans prepare to do for their party what Democrats did for theirs in 2008, it could be significant and scary — given what drives the state GOP today and the Vander Plaats litmus test.