Posted at 1:00 pm, January 17th, 2009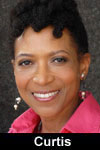 Washington is holding its breath — and it's not just because of 14-degree weather. The city is getting ready for Tuesday's inauguration of a new president and it wants everything to be perfect. On Friday bleachers set-up outside the White House stood empty. That will change.
A few bundled-up pilgrims made their way to peek through the gates and ponder what kind of president the new occupant will be. They had already looked past President George W. Bush, who said his farewell to the nation Thursday night with optimism and just a bit of regret. Bush was looking to the future, as well, when he called the election of Barack Obama "a moment of hope and pride for our whole nation."
Robert Coleman of Wisconsin was busy taking pictures in the early darkness Friday night. In Washington on business, he had spent the day recording photographic memories of historic spots before his return home the next day. The White House was his final stop. The new president "has a steep learning curve," he said. "But he's smart," he said, with more hope than enthusiasm. Coleman, 64, who is involved in organic agriculture, said Obama's "the right man for the job."
It's not just Americans who are waiting and watching. Ludovica Ceschi and Pietro Montecelli don't have tickets, but they will join the expected millions on the mall for Obama's swearing-in. The two – who operate a bed and breakfast in Lucca, Italy – believe Obama "will open up minds and hearts," said Ceschi. He will use diplomacy to tackle world problems, she said, as she backed away, eyes still on the soon-to-be-president's soon-to-be-home.
Can anybody live up to the expectations of the country and the world?
One thing is certain: Washington wants Barack Obama's time to start with style. Despite the cold, it seems everybody wants to be there. After I picked up the credentials that give me the right to stand and freeze along with everyone else, I was approached by a man with the look of a sports fan outside the stadium on playoff day.
"Do you have any inauguration tickets you can sell me?"
First published on the Inauguration 2009 blog for 90.7 WFAE, a Charlotte NPR station.