Posted at 1:14 pm, January 22nd, 2009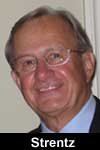 Joan went shopping today; picked up what is called a "beach coverup," something to toss on over a swimsuit. The "COMPARE AT" information on the price tag lists the garment's value at $168. "OUR PRICE," says Stein Mart, is $59.99. Joan paid $3.96!
I look at the price tag, on my desk as I write this, and I marvel at it. Much as I do when I read about President Barack Obama's effort in his first day in office to reverse the policies followed by the George W. Bush administration when it comes to the federal Freedom of Information Act. It's just so difficult to believe, and with good reason.
Under Bush and his attorney general, John Ashcroft, the policy orientation essentially was "When in doubt, don't disclose." Under President Obama, the policy will be "When in doubt, disclose."
So, merriment may abound among the FOI crowd. But don't pop the champagne just yet. We've been here before.
When the Clinton administration came in, his attorney general, Janet Reno, issued the same kind of marching orders in 1993 that the Obama administration issued today, reversing the "don't disclose" polices of the George H.W. Bush and Ronald Reagan administrations.
The intentions were laudable, as they are today. But not much changed. That's because the people in the trenches, including longtime civil servants, figure they know how to run their offices better than a short-term presidential administration. Those who had been open continued to be so; those of a more secretive bent continued to be so. Policies don't always transfer into practice.
Besides, what's to get excited about even if journalists get more access to government information? Over the years, the percentage of federal FOI requests coming from the press is a paltry 6 percent. Using the FOI Act is time consuming; much information is available simply for the asking. Commercial interests and interest groups use the FOIA far more than the press. In addition, much of the journalism news these days is about cutbacks in the bureaus that cover the federal government.
On the other hand, there is some news of substance on the freedom of information front when it comes to Obama's first day in office. Obama revoked W's Executive Order 13233 of 2001 that severely limited access to presidential records. That step is of far more substance than the promise to be more open — a promise that, after all, no administration can fulfill because openness does not necessarily trickle down.