Posted at 11:37 am, January 15th, 2009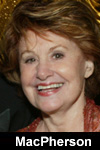 The elevator opened on the penthouse floor of the Statler Hilton and I dashed into the hall, late for the press conference, so late that it was all over. Two burly guards halted me with a not too friendly stiff arm on the shoulder. "Where ya goin' kid?" said one while the other yelled back into an open door, "Hey Frank, some kid wants an autograph."
Standing as tall as I could in ballerina Capezio flats, I said, imperiously I hoped: "I am with the Washington Star". The mood switched on a dime. Out came Peter Lawford. And Frank Sinatra. It was a few days before John F. Kennedy's 1961 Inaugural Gala and the Rat Pack was on its best behavior with the press.
I was waltzed into the suite. Lurking around was comedian Joey Bishop but I can't remember who else of note. There were no women, or broads, as Sinatra would say. The group drew up chairs and their attentiveness was the caliber of broad farce; a mocking pretense of sincerity. I can't remember what inane question I asked as all eyes widened as if I had just performed a feat of Edward R. Murrow erudition. Sinatra acted courtly and Lawford, brother-in-law-to-the-next-President, smiled the smile that had seen him through "Little Women" and numerous Grade B movies. I knew for certain that when I left their guffaws would fill the suite.
Hollywood has been coming to inaugurals for eons and sometimes there are second acts, as when Sinatra switched sides to perform for Ronald Reagan. But the similarity with 1961 and today is the aura of high excitement that fills this city, unlike inaugurations in between. Washington was coming off the paralyzing decade of Fifties McCarthyism and the elderly Eisenhower siesta. The Camelot image would not be tarnished for years and the Bay of Pigs fiasco was still in the near future. Caroline was three and John-John a baby and even top diplomatic journalists were filling their columns with swoons about the young Kennedys in the White House. Today, with the young first African-American couple about to enter the White House it is in some ways as if a time machine was reliving yesterday's magic and adding a wonderful 21st century twist.
To be young now must be something like what it felt to be young then.
Brand new in town and a neophyte in journalism, I remember asking some older reporter how different the feeling was since the Eisenhower era and he just stared at me. It had to be one dumb question. Hollywood, perhaps now as then, had little depth regarding real-life political Washington and the gala that Sinatra produced seemed singularly corny in its opening act. The old barn of the D.C. Armory was filled on rehearsal day with stars standing in a line and singing "Marching Down to Washington", a song infinitely forgettable, as they strutted across the stage with a "there's no business like show business" kick at the end.
Star-struck as I was, the person who had the most effect was Gene Kelly. As a teenager a few years back in a small town in Michigan, in our one picture show, I had fallen quite in love with him in "An American in Paris." I stood before him, pencil and paper in hand, not for an autograph but to ask him something about the show. He was sitting off from the group around Sinatra, reading a newspaper and wearing half glasses. He peered over them and smiled engagingly. If we had a conversation of any significance I do not recall.
In the late afternoon of the gala, the blizzard began. It seemed as if it would never stop. Cars slid to stops in snowbanks. Watered silk took on new meaning as women in ball gowns stood drenched in drifts of snow. Somehow many made it into the Armory and somehow the show went on. And JFK asked an aide to turn the lights up so that the crowd "could see Jackie." Afterwards, a curious bonhomie took place among the crowd, as if they were the last survivors on earth. Strangers offered each other rides. Others cheerfully pushed cars out of snow drifts. Women hiked in already ruined silk slippers as if nothing could stop them. These were the blizzard-battered remnants, the swells who had paid $100 a ticket. (Hey, it was 1961.)
All night long the snow plows worked over Pennsylvania Avenue, removing and pressing snow into hard-as-concrete contours. The sun shone but it remained freezing cold. The press huddled on bleachers across the avenue and facing the parade reviewing stand, shivering, clutching cups of coffee, writing notes with gloves on. All the horses and bands in the world seemed to file past in endless monotony. Across the way, when the new president talked, puffs of steam emerged.
After it was over, some of us jumped down onto Pennsylvania Avenue, only to be pushed back by the Secret Service. "Hey kid", we heard again. It was a command, not an explanation. "Wait until the President leaves."
As I read about this new incoming President, some of the old war-horse juices flowed. Wouldn't it be fun to cover? I remember a comment by the late and great columnist, Mary McGrory. Her idea of the most perfect day was "to cover the most historic event of the moment, take copious notes, come back and tell your friends all about it –and throw your notes away." It is always the "being there" that entices, far more than having to write about it. But then I read about unprecedented street closings, bridges closing, throngs pushing, subways jammed, millions expected, 5,500 plus Port-a-Potties.
Suddenly, television and drinks with old friends sounded like the perfect way to witness this new and historic moment. Leave the "being there" thrill to another decade of kids.