Posted at 10:28 am, January 21st, 2009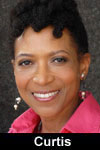 They walked along Pennsylvania Avenue and the crowd roared. President Barack Obama and first lady Michelle Obama looked relaxed and not the least bit cold and – just like that – it was real.
Men jumped on other men's shoulders to get a better look, parents held children high in the air and throngs of people ran as the first couple walked, as though they did not want to let the new president and his wife out of their sight.
Just a day earlier, Jan. 19, 2009, it was not real. Obama won the election two and a half months ago, but until he placed his hand on Lincoln's Bible and repeated the oath of office (after a few back-and-forth stumbles with Chief Justice John Roberts), there was always the fear that "they" would take it away – "on a technicality," my husband joked.
Maybe that was why so many of us had to be there, to see it with our own eyes. On the train from Baltimore in the early morning and on the streets of Washington, I met old friends and made new ones: three women friends from Los Angeles (one said Obama had the "key match of intelligence and the ability to get it done"), two sisters with no tickets but plenty of optimism, a woman so excited she "couldn't sleep all night."
African Americans who had lived through a very different America needed to see it. Agnes Coleman wore a hat with postage-stamp-style pins that honored Thurgood Marshall, Martin Luther King, Ella Fitzgerald and other accomplished black Americans. The 70-year-old from Rhode Island didn't think she would ever see this day. "We're like this," she said, as she puffed her chest out, a little prouder.
Joyce and Clarence Fisher, a 60-plus couple from Gastonia, N.C., got their tickets for the swearing-in after Clarence Fisher wrote Rep. Sue Myrick (R-N.C.) a letter telling his story. The two North Carolinians (he's from Reidsville, she's from Gastonia) met at North Carolina A&M in the 1960s, where they marched for civil rights. They attended segregated schools and experienced unequal treatment. They still lived a good life — an all-American life — raising two sons and working in the corporate banking world. Clarence Fisher served his country in the military. His letter made their case.
Then the phone call came – followed by inaugural tickets.
"It's a monumental event," said Joyce Fisher, "not only history for African Americans but history for the United States." She said Obama's election shows that Americans can "look at a person for being a person."
"Look how he's motivating people," she said, echoing the call to duty and service Obama would make in his inaugural speech with the words, "we can do so much more together than we can do alone."
When I saw there would be a transfer of power unlike any in our country so far, I realized why I had to defy common sense and head to Washington, D.C. I had to represent my brother Douglass Anthony Curtis. He marched for civil rights, was arrested twice during sit-ins at restaurants. He died of a stroke a few years ago, though I'd like to think he had a front-row seat this day.
In the crowd, I saw a lot of tears, probably for other relatives and friends who paved the way. Today was a time to think of them, and then move forward.
Everyone has placed Barack Obama's campaign and election in history: from the lessons of Lincoln to the legacy of King.
Jan. 20, 2009, he stepped out of the shadows of history and started to make his own.
First published on the Inauguration 2009 blog for 90.7 WFAE, a Charlotte, N.C., NPR station.