Posted at 12:53 pm, January 19th, 2009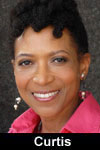 Each night leading up to the inauguration of Barack Obama brings more celebrations, more of that particular mix of celebrities, politicians and media folk. Sunday night, the Root inaugural ball also added history. At the party at the Smithsonian Institution National Museum of American History, you could see film director John Singleton ducking into a corner to take a call and fashion designer Diane von Furstenberg following Attorney General designate Eric Holder on the red carpet. You could listen to the Howard University Gospel Choir and dance as Biz Markie controlled the music mix.
But right beside the elegant buffet, a not so fancy Woolworth lunch counter with four empty seats reminded the crowd that in February 1960, four North Carolina A&T students started the sit-in movement in Greensboro, N.C. Without their brave demonstration and the sacrifices of others in the civil rights movement, there would not be a president-elect Obama. As the party stretched into the Monday of the Martin Luther King Jr. holiday, it was a fitting touch.
The Root is a daily online magazine that provides news commentary – sometimes mine – from a variety of black perspectives. This history-making year was a good one for the site, as its editor-in-chief, Henry Louis Gates, Jr., acknowledged.
I was happy to see colleagues from the campaign trail and newspaper jobs past, from Eugene Robinson of the Washington Post and Jonathan Alter and Howard Fineman of Newsweek. I would have liked a preview of the inaugural poem from Yale professor Elizabeth Alexander, but all I got was a smile. She looked incredibly relaxed for someone about to face a world of literary critics.
It was a simple picture, though, that stopped me, the latest addition to a gallery on the wall of a room of inaugural ball gowns. And under the photo: "Michelle Robinson Obama First Lady 2009-"
First published on the Inauguration 2009 blog for 90.7 WFAE, a Charlotte NPR station.