Posted at 9:20 pm, March 27th, 2009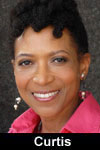 When I heard about the death of John Hope Franklin, I grabbed my copy of "Mirror to America," his 2005 autobiography. The blurb on the cover reads: "The twentieth-century fight for civil rights told in the first-person singular by a preeminent American historian."
An understatement.
For 94 years, John Hope Franklin lived the history he wrote about from a scholar's distance. His masterful "From Slavery to Freedom," published in 1947, showed that blacks could not be written out of the history of America. His research was part of the foundation of the landmark 1954 Brown v. Board of Education case that struck down "separate but equal."
Early and late in life, he suffered indignities. His father's law office was burned down in the Tulsa, Okla., race riots of 1921; in Washington to receive the Presidential Medal of Freedom in 1995, he was mistaken for a private club attendant by a woman demanding her coat. But he knew his worth, a lesson from his parents.
Maybe that's why he was able to smile, as he does in the photo on "Mirror," with his entire face.
A highlight of my 2005-2006 year as a Nieman Fellow at Harvard University – where Franklin earned his doctorate many years before – was a dinner with Franklin, who was visiting his friend and attorney Charles Ogletree's Race and Justice seminar.
At a public meeting before the dinner, Franklin detailed the precision of the research into his own life. Memory was not good enough. And he gently chided a questioner who attributed his accomplishments to "being blessed." Don't underestimate the 17-hour work days, Franklin told him.
At dinner with the class and others, Franklin was charming. Everyone else – including his former Brooklyn College student Alan Dershowitz – was in awe. Professor Ogletree made room for this student's guest, and it turned out to be my husband's most memorable Harvard experience, he's told me many times since.
As John Hope Franklin signed my book, I felt his warmth — and a debt of gratitude.
All Americans should.