Posted at 10:40 am, August 13th, 2009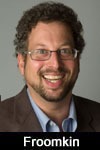 Andrew Exum, the widely respected counterinsurgency expert who goes by Abu Muqawama in the blogosphere, recently came back from a month in Afghanistan, where he had taken part in new Afghan commander Gen. Stanley McChrystal's 60-day review of strategy and operations.
On his return, his number one conclusion was: Winning in Afghanistan will be really, really difficult.
And that, in turn, led him to raise some really, really big questions – precisely the kind of questions that haven't quite penetrated the mainstream media, although they are increasingly being asked in the blogosphere.
Exum's essay was entitled, Maybe Bacevich Has a Point, and was an allusion to Boston University professor and military expert Andrew Bacevich, who himself recently wrote for Commonweal magazine:
"What is it about Afghanistan, possessing next to nothing that the United States requires, that justifies such lavish attention? In Washington, this question goes not only unanswered but unasked."
So Exum asked his readers – anybody, really:
"Is the war in Afghanistan in the interests of the United States and its allies? If so, at what point do the resources we are expending become too high a cost to bear? What are the strategic limitations of U.S. counterinsurgency doctrine and operations? And if the war is not in the interests of the United States and its allies, what are U.S. and allied interests in Central Asia – and how do you propose to secure them?"
As Foreign Policy blogger Marc Lynch put it: "this is a debate which should have happened months or years ago."
The answers are coming in, on Abu Muqawama. Some are attempts to answer in the affirmative – though to my mind, it's kind of amazing how disconnected from reality most of them seem. But that's not even the point. The point is that amid the daily drumbeat of stories about how Afghanistan will require more troops, more money and more time, these are the right questions, and it's about time they were asked more widely.