Posted at 10:21 am, June 11th, 2010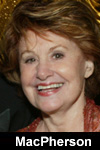 Full disclosure up front. I have been a Helen Thomas friend ever since we stood on a tarmac, interviewing Jackie Kennedy through a crack in the window as The First Lady sat in a limo, waiting for her infant son, John, and three-year-old Caroline, to arrive in a plane and commence life in the White House.
It was a White House that was Helen's home, too, through 10 presidents. When Helen opened her mouth, media mayhem often ensued as she asked tough questions most toadying White House reporters eschewed. A recent example, as casualties mount in Afghanistan: "Mr. President, when are you going to get out of Afghanistan? Why are we continuing to kill and die there? What is the real excuse? And don't give us this Bushism, 'If we don't go there, they'll all come here.'"
Her confrontational statement/question style did not show in her straight down-the-middle reporting when she was with the United Press International wire service. I remember her rattling off a piece on the phone with such fast clarity that she was like a piece of machinery, just giving the facts. As a Hearst columnist in recent years, the edginess of her questions came through in her writing, which is a columnist's prerogative.
But now, the once "dean" of the White House press corps is chopped liver, disowned by colleagues and even dumped by her long time speakers bureau run by Diane Nine. It can safely be said that Helen Thomas made Nine a lot of money and remained steadfastly loyal to her when larger bureaus would have died to have her. The cliché "biting-the-hand-that-feeds-one" comes to mind. (We once spoke jointly and the mob of 700 at a morning book festival came out solely for Helen, not for me or anything I had to say about journalism.)
We all know why Helen is in purgatory. Of Lebanese stock and always strident on the subject of Arab/Israeli relations, Helen responded when a rabbi questioned her on the Middle East at a recent Jewish ceremony at the White House. She told him, on camera, that the Israelis should "get the hell out of Palestine." Asked where they should go, Thomas said back to their homeland of Poland or Germany—or the United States and "anywhere" else.
Thomas apologized for the "indefensible" and insensitive remarks, which they were. But anyone who knows her would understand that she was referring to Germany and Poland as they are today, not during the Holocaust. She is now called a racist and anti-Semite. I suppose it matters not that in 50 years I have never heard her utter anything anti-Semitic and that she adored among her many Jewish friends my two husbands who were Jews.

She also said she was for a two-state solution, the position most Western leaders and those sympathetic to Israel endorse. As Benjamin Netanyahu continues to plan West Bank settlements and condones harsh treatment in the occupied zones, the hopes for peaceful Israeli-Palestinian solutions fade. And one has to wonder what the response would have been if a right wing pro-Israeli columnist of Jewish origin had verbally attacked, for example, all Arab Palestinians as terrorists? Very little is my guess.
The bottom line in all this fracas is that Helen's comments were the excuse her White House colleagues were waiting for. "Insensitive" is the kindest word to label the comment of Ken Herman, who was on the board of the White House Correspondents Association when the majority sentiment was that Helen should be moved out of her honored seat in the front row because her "questions/statements often were out of line." Now here comes the really heartless comment. "Nature, we told ourselves, would take care of the problem," wrote Herman. In other words, Helen, who turns 90 this year, might just conveniently die and save the White House correspondents the fate of having to make a decision. Oh for the ancient Eskimo tradition of finding an iceberg and sending her out to sea.
She was an embarrassing trouble maker with her "out of line" toughness. But she was also a "trailblazer" Oh my. What to do? Move her and look "heartless" or keep her there and look "gutless?" The majority went with "gutless" although Helen herself "voiced no objection to the potential move." [Ken Herman in the Austin-American Statesman, June 9.]
And just who are these brave stalwarts of the First Amendment? These critics of Helen who seldom ask a tough question? Who are content to be access whores for publishers who want the "insider" front page or TV lead story to parade as an exclusive even when it is a lie as whopping as WMD's? Or repeat the lies of Cheney, Rove and Bush without question? Or give Obama a pass when he artfully dances around an issue?
A few years back CBS-TV correspondent Bill Plante, another of a tough former breed of journalists, was forced to shout a question when Karl Rove was resigning; President Bush praised Rove's intelligence, then refused to answer questions. "If he was so smart why did you lose Congress?" shouted Plante, and was lambasted for his "unprofessional act."
Plante replied "Reporters are not here as guests. We're here to ask questions. If we were ever to agree to 'behave' we'd be walking away from our First Amendment role—and then we really would be the shills we're so often accused of being."
Listen up, all you self righteous little White House correspondents.