Posted at 11:28 am, October 24th, 2010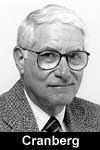 In my work secrecy was a no-no and the right to know sacred watchwords. So when my wife had emergency surgery and the pathology report revealed untreatable cancer, why did I want the truth kept from her? Because she was not an abstraction but a complicated person with anxieties who would be far better off not fretting that every twinge was a sign of advancing cancer.
Two of our sons are MDs who were instructed in medical school to level with patients. They swallowed their misgivings about my decision but respected it and did their best to run interference with other doctors whose help we needed. Only one physician, an oncologist, refused to examine Norma under the non-disclosure condition we set.
Hospice was another hurdle. I visited the hospice nearest our home in Des Moines and noticed immediately the many staff wearing badges announcing their connection to hospice. I explained to the supervisor that Norma would understand from this that she was terminal and could a way be found to keep her condition from her. My request was taken under advisement. I was told later that upon review hospice's policy of leveling with patients would not be modified.

We learned that hospice is not monolithic. A half-dozen hospice organizations operate in Des Moines, with varied policies. Our daughter found one that provided the full array of hospice services but without anyone identifying themselves to Norma as associated with hospice. We signed up with that hospice, which was affiliated with a Catholic hospital, and had no regrets.
The very fine nursing home where Norma spent her final weeks announced one day that Norma would be the subject of a special meeting. We arrived to find a room full of staff. The administrator said the meeting was convened because several therapists wanted Norma to be informed about her condition. They were uncomfortable, we were told, when Norma complained to them she was not showing improvement and they could not tell her why. I refrained from asking if any of them wanted to tell her, "Norma, you are not improving because you are dying."
The clincher proved to be Norma's psychiatrist. She had gone to him for years for anti-anxiety prescriptions and had become close to him. He showed up at the nursing home one day unannounced on a purely social visit. As he was leaving he stopped to chat with my family gathered outside Norma's room. He volunteered that he wanted to say how much he agreed with our decision not to tell Norma about her condition. When I revealed this to the meeting of nursing home staff, the meeting broke up without another word.
My family has thought long and hard about how we dealt with Norma. The secrecy made things more difficult for us. But never have we had a moment's regret. A lot has been written about death and dying and many fine sentiments have been expressed about truth-telling. Not enough can be said about how families know the patients best and about how the judgments of loved ones need to be solicited and trusted.