Posted at 9:01 am, February 23rd, 2011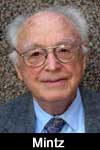 If Harry S. Truman were with us today, would his opinions of commentators such as Glenn Beck and Rush Limbaugh be printable? I was led to wonder about that on reading a letter he sent to his good friend Dean Acheson, the former Secretary of State, after leaving the White House.
"Well, I have the urge to give some of these lying, paid prostitutes of the mind a little hell, the former President wrote. After quoting a definition of "prostitute" from "Old man Webster," he went on to say:
We have men, in this day and age, who are prostitutes of the mind. They sell their ability to write articles for sale, which will be so worded as to mislead people who read them as news. These articles or columns are most astute and plausible and unless the reader knows the facts are most misleading.

These men are prostitutes of the mind–they write what they do not believe for sale….In my opinion, they are much worse and more dangerous than the street walking whore who sells her body for the relief of a man whose penis is troubling him.

Prostitutes of the mind have been the great menace to free government since freedom of speech and freedom of the press was first inaugurated….

A prostitute of the mind is a much worse criminal in my opinion than a thief or a robber….

Prostitutes of the mind are skillful purveyors of character assassination and the theft of good names of public men and private citizens too. They are the lowest form of thief & criminal.

Well, I don't have to name them. You know 'em too.
Acheson replied in part:
The man in the street is so conditioned to intellectual prostitution that an old-fashioned fellow who tells the truth once in a while is sure to be charged with un-natural practices….

There are a lot of candidates for the crown of Queen of the intellectual prostitutes, but most of them are too much fat old madams to arouse passion–Walter Lippmann, Arthur Krock, even [Westbrook] Pegler and [George] Sokolsky.
Truman's letter was dated Dec. 29, 1955, Acheson's Jan. 3, 1956. They appear in Affection and Trust / The Personal Correspondence of Harry S. Truman and Dean Acheson / 1953-1971, published in 2010 by Knopf.