Posted at 12:02 pm, June 17th, 2011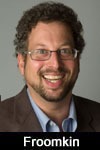 Reporters covering the mad bipartisan scrum to reach some sort of agreement on federal deficit reduction have been painstakingly recording every detail of rhetorical posturing, noting every political up and down — and missing the real story. They're not questioning the underlying assumptions, which make this whole exercise a counterproductive farce.
Dean Baker, the co-director of the Center for Economic and Policy Research, recently wrote in an opinion piece for the Guardian about the lack of rational arguments on behalf of what he calls "the faith-based economics of deficit reduction." There was plenty of good advice in there for the Washington press corps.
Baker wrote:
[I]t's worth asking how the proponents of deficit reduction think that lower deficits will lead to increased growth and job creation in an economy mired in a severe slump?
For instance, are they seriously arguing that lowering the deficit will reduce interest rates? Baker explains:
The interest rate on 10-year Treasury bonds is already down to 3.0%. Assuming a 2% inflation rate, this translates into a real rate of about 1%. How much lower do the deficit hawks think interest rates will fall if we were to sharply cut the deficit? Furthermore, how much more investment do they think we can induce even if we got a large reduction (for example, 0.5 percentage point) in real interest rates?

Do they think that this sort of decline in interest rates will send the dollar tumbling and thereby improve our trade balance? Against which currencies will a lower interest rate cause the dollar to fall sharply?
Are they, Baker asks, seriously arguing that if we lay off workers in the public sector, that will increase employment in the private sector? Baker shows why that is not a defensible position.
Or are they arguing that businesses have a "bad feeling" about the deficit and for that reason are sitting on their profits rather than investing them? Baker points out that the fear of higher taxes in the future is actually an incentive to invest now rather than later.
What is the coherent explanation for all this deficit hawkery? Shouldn't we ask?