Posted at 5:50 pm, July 28th, 2011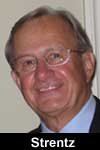 DES MOINES—Like Linus, who each Halloween prophesied the arrival of the Great Pumpkin, the political press every four years heralds the arrival of the Iowa Straw Poll.
Linus proclaimed, "Each year, the Great Pumpkin rises out of the pumpkin patch that he thinks is the most sincere. He's gotta pick this one. He's got to. I don't see how a pumpkin patch can be more sincere than this one. You can look around and there's not a sign of hypocrisy. Nothing but sincerity as far as the eye can see."
Taking their cue from Linus, the news media proclaim, "The straw poll is viewed as a crucial first electoral measuring stick of campaign strength and candidate popularity."
That's the press's story and, like Linus, they're sticking to it — and just about no one in the media family talks about hypocrisy or sincerity when it comes to the Straw Poll.
On Aug. 14, you will read in the press and hear and see in the broadcast media which candidates for the GOP presidential nomination harvested the most votes in the Iowa Straw Poll and therefore are considered among the front runners to oppose President Barack Obama in the 2012 election.
Except it's really comical. In its way, the Straw Poll is more a joke than Linus and the Peanuts comic strip.
That's because the Iowa Straw Poll is little more than a fund raiser for the Iowa Republican Party, abetted by a news media with not much else to do during the summer.
Consider:
• While opposed to any new taxes, or taxes in general, the Iowa GOP levies a poll tax of $30 a vote for those who want to testify to "campaign strength and candidate popularity." So when you read that U.S. Rep. Michele Bachmann got say 3,000 votes in the Straw Poll, that means her campaign paid about $90,000 for votes that were cast, and probably spent $30,000 to $45,000 for voting tickets that went unused — seed sown on rocky ground, as the scripture would have it.
• To get a booth at the Straw Poll carnival and party site on the Iowa State University campus, a campaign must pay at least $15,000 for a display area. There's an auction of such sites, with this year's top bidder being U.S. Rep Ron Paul who forked over $31,000 or so to the Iowa GOP for his site.
• The Iowa GOP also picked up a contribution of $100,000 from the American Petroleum Institute — funneled through The Iowa Energy Forum, which will use Straw Poll merriment to promote an agenda that includes no new taxes on the oil or natural gas industries.
In the story noting that, the Des Moines Register also reported that, as of late July, the Iowa GOP has already made $390,000 on its version of "campaign strength and candidate popularity."
Think we could use more reporting like that to put the Straw Poll in its proper perspective?
The most recent Iowa GOP Straw Poll, in 2007, brought in about $900,000 in revenue in voting tickets alone — $500,000 of which translated into votes. The balance, wasted money by the candidates, also went to the war chest of the Iowa GOP.
Former Massachusetts governor Mitt Romney won the 2007 event, and estimates are that he spent $1.5 million to demonstrate his strength and popularity in Iowa. But having built up expectations, Romney failed to win the more important Iowa GOP caucuses the following January, placing second to Mike Huckabee.
This time around, once burned, Romney bought no display in the 2011 event. Nevertheless, to beef up the field of six candidates who did fork over at least $15,000 for a display area, the Iowa GOP added Romney, Newt Gingrich and Jon Huntsman to the ballot gratis — given that they had announced their candidacies for president. Write-ins will be allowed, too, also at $30 a vote.
You'll read and hear all about this — minus most of the dollar signs and fund-raiser angle — in the news on Aug. 14.
And, like Linus, we in Iowa won't learn our lesson. There will be another Straw Poll in 2015.
"Just wait 'til next year, Charlie Brown. You'll see! Next year at this same time, I'll find the pumpkin patch that is real sincere and I'll sit in that pumpkin patch until the Great Pumpkin appears. He'll rise out of that pumpkin patch and he'll fly through the air with his bag of toys. The Great Pumpkin will appear and I'll be waiting for him! I'll be there…"