Posted at 10:38 pm, August 13th, 2011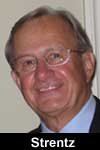 Here is a thought to ponder as you read and hear about the results of the Iowa Straw Poll: "Most of what is in the paper comes from irrational people, but becomes rational because it filters through rational reporters and copy editors and maybe a rational editor, if you've got one."
Those words came to mind as I begin to pull together a seamless, flowing account of the results of the Iowa Straw Poll in Ames, on the Iowa State University campus — coherent and concise.
You know, something to mislead the reader as to the nature of an event.
Like most breaking news reported today, however, the Iowa Straw Poll is anything but coherent or seamless or rational.
So here is a listing of items. Make of them what you will, while bearing in mind that the Iowa Straw Poll is a fund raiser for the Iowa Republican Party — the fee to vote is $30 — that has been turned into a major political news event. For a few days Iowa is "the center of the political universe" because — God help us! — "The road to the White House must go through Iowa."
Also keep in mind that a featured food at this year's Iowa State Fair was "Deep Fried Butter on a Stick."
Some news, neither chronological nor in order of importance and not deep-fried:
• The campaign and supporters of U.S. Rep. Michele Bachmann contributed the most money to the Iowa GOP, at least $144,690, which at $30 a vote translated into 4,823 votes, allowing Bachmann to beat U.S. Rep. Ron Paul, $140,130 and 4,671 votes. Paul had finished fifth in the 2007 Straw Poll with 1,305 votes ($39,150) and was expected to have done well this year if he came in third. So it is onto New Hampshire for at least these two. Former Minnesota Gov. Tim Pawlenty was to his campaign and the news media a disappointing third with $68,790 and 2,293 votes. He and other trailers can take satisfaction in that in 2007 the party's eventual nominee, U.S. Sen. John McCain, finished 10th with but $3,030 contributed to the Iowa GOP and 101 votes.
All the funds listed are but starting points for filling the Iowa GOP coffers because campaigns must pay for space at the Straw Poll carnival and campaigns also buy more tickets than are cashed in at the polls. (In 1999 and 2007 some $750,000 worth of votes went uncast.) The Register reported that Bachmann's campaign bought 4,000 tickets to enfranchise her supporters, and that Paul's campaign likely had more chartered buses than anyone else. (Chartering buses is soberly viewed by the news media as evidence of fitness to be President.)

• Testifying to these and other results were more than 700 reporters, bloggers and other news media representatives who carried press credentials. In 2007, some 400 credentials were issued; in 1999, some 600 or so. (In 2003, President George W. Bush was running for re-election and even diehard Iowans acknowledged that the road to the White House did not necessarily have to go through their state.)
• To its credit, the Des Moines Register carried a Straw-Poll-day editorial, "Straw poll is fun; but don't make too much of it." The editorial cautioned people against the weighty conclusions now being drawn on editorial pages and by TV talking heads across the nation.
• In another Straw-Day-Poll article, in the New York Times, Nate Silver's uncontestable lead was "It is easy to make fun of the Ames Straw Poll." The article rightly pointed out that the Straw Poll is a good predictor of who will win the Iowa GOP caucus, scheduled for Feb. 6, 2012. So? The Iowa caucuses have their flaws, too, and the Straw Poll and caucuses are both dominated by the religious right in the Iowa GOP. That is why Mitt Romney and Jon Huntsman may have been wise not to invest time and money as Straw Poll contenders. In fact write-in votes for Texas Gov. Rick Perry beat Romney, who was on the Straw Poll ballot, 718-567. Finding satisfaction in the Straw Poll-Caucus link is like being reassured that your second surgery by Dr. Sleepy will be every bit as effective as your first by Dr. Dopey.
• The Aug. 15 New Yorker carries a timely article about Bachmann, "Leap of Faith, The making of a Republican front-runner." It's a good-read, of course, but I was struck by what the article omitted. For example, there was no mention that — in a field as weak as the one active in Straw Poll campaigning — someone had to be made a front runner by the press. Nor is there mention of a crucial event that likely convinced Bachmann she had a good chance to win in Iowa: In November elections Iowa voters — driven by the religious right — ousted three Iowa Supreme Court justices who were part of the 7-0 decision that a ban against same-sex marriages was unconstitutional. Nor is there any mention of Robert Vander Plaats, the person who led the campaign against the Court. He may be one of the Straw Poll losers because he fell from news media visibility and podium-sharing status soon after promoting a vow for presidential candidates that included wording that applauded the structure of black families under slavery. Bachmann had signed that pledge.
And that is pretty much what you need to know about the 2011 Straw Poll.
Except for the wisdom about how the news media turn the irrational into the rational — that insight was shared with me more than 40 years ago by the late James McCartney, then city editor of the Chicago Daily News. (I was working on my doctorate at Northwestern in 1968 and talked with him about the nature of news coverage.)