Posted at 12:39 pm, September 22nd, 2011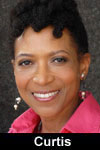 Where is Buddy Roemer, Republican candidate for president? In the polls, the former U.S. Congressman and Louisiana governor is so low he hasn't been included in any debates so far, and that includes Thursday night's.
This week, though, I knew exactly where I could find him – in Charlotte, N.C., around the corner from my house. In a roped off block, with children riding bikes and making noise in the background, about 50 or so potential voters sipped wine, ate barbecue and heard Roemer talk about his plan to solve the country's problems. "I need to light the prairie on fire so I go striking matches all over the country," he told me.
His message, that America is "a nation in trouble" with "debt we cannot pay," sounded familiar. "Excessive debt shrinks a person," he said. "That's what happens to a nation."
Then he chided "those of us who have it made" letting the rest "go to hell," veering into one of his signature issues, a belief that "we've had our jobs stolen by unfair trade." Roemer, who turns 68 next month, singled out China as a culprit. During visits there, he said he observed women working long days in factories – children at their feet – being paid only in food and shelter. He promised regulations to level the field.
Roemer spent most of his time talking about what he thinks is ruining politics and making change impossible – money. The former Democrat often sided with his hero Ronald Reagan when he served in Congress and switched parties while governor. Now he doesn't let party stand in the way of his harsh criticism of current candidates. "The Republican party is just as bad as the Democrats," he said. Both are "bought and sold by the special interests."
While he said that President Barack Obama "is not a bad guy," he denounced his high-dollar fund-raisers, and also cited Rick Perry, Mitt Romney, Jon Huntsman and Michele Bachmann for taking unlimited money from super PACs. "The bigger the check the bigger the place they have in the room." He said, "They all take the money and the money is what runs Washington."

Roemer accepts no contributions over $100, and no money from political action committees. So far, he said he's raised "a couple of hundred thousand, a quarter of a million." He had one of his most successful fund-raisers after an appearance on Jon Stewart's "Daily Show"; Roemer is definitely a fan.
Patric Zimmer, one of the owners of a Charlotte bowling alley where Roemer made an appearance earlier Tuesday, arranged the candidate's visit. "I'm just a simple guy who liked the message," the 44-year-old told me. He looked at Roemer's Website and clicked the link that said "Invite Buddy to an Event." So Buddy and a correspondent from French television dropped by.
On the day that the military's Don't Ask, Don't Tell policy ended, Roemer didn't talk to the crowd about his views on social issues, which stay pretty close to the conservative GOP line. "The danger in military conflict is disunion among our troops," he said of the DADT repeal. "I would listen to the military generals, and they said we could do it this way. I don't like it, but I'm willing to trust the generals."
As a "Methodist boy," the pro-life Roemer told me he believes that "abortion requires laws because the unborn cannot protect themselves." He said the Constitution allows for state-by-state debate on what marriage is, though he disapproves of same-sex unions. When North Carolinians vote on an amendment to the state constitution next year, he said, "I hope they vote to keep traditional marriage." But Roemer was more comfortable when he kept on message: "To me it starts with jobs."
Many at the neighborhood gathering liked what they heard. Some you would expect, such as Bill Hinson, 68, a retired business owner and Vietnam combat veteran. "He's a conservative and doesn't want to spend my money," said the self-described libertarian who also likes Ron Paul. Hinson could not bring himself to say the president's name, calling him only "the Democrat," and said, "Glenn Beck is the only guy that's telling the truth.
But even some Obama supporters approved, despite Roemer's pledge to "do away with" the Department of Energy and to increase the retirement age for Social Security one month a year for 24 years.
"I'm impressed, very impressed," said Gene Mallonee, a retired teacher and political independent who supported Obama and now said, "I can vote either way." She said Roemer – who's been out of politics for two decades – is "a fresh new voice," and liked his $100 campaign donation limit. She said she is "disenchanted with Washington," disappointed in yet sympathetic with the president, who "was given an impossible job and has gotten no help from either party."
Roemer, who had spoken to mortgage bankers in Raleigh earlier Tuesday, was next headed back to New Hampshire, where he's been living and where he's going to make his political stand. "New Hampshire is key for me," he said. "I feel like I'm running for governor." He's not competing in Iowa, "too expensive" with its caucus system, he said. "I'm going to try to have a presence in South Carolina, but it's made or broken in New Hampshire."
Roemer said, "I've never gotten a political endorsement. I don't do that. I'm just straight out of the neighborhood." And after about an hour, he left mine.
Before he did, he said that some of the candidates he's disparaging have been offering him a spot in their administrations. "I'll look at them from mine," he said. "I'll get on one of these debates," he said, and talk about America. And when "we win the election this way, this will be awesome."