Posted at 10:18 am, November 2nd, 2011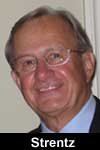 With two months to go before the Iowa Republican Party caucuses on Jan. 3, 2012, here is a one-question multiple choice quiz for you.
Q: Which of the following characterizes the Iowa GOP caucuses?
A. What a mess!
B. Our long national nightmare is almost over!
C. Hey! Let's do this again in 2016!
D. All of the above.
Right! The answer is D, and here is why.
A. What a mess! A bizarre look at the GOP candidates was offered by KAL, whose cartoons are featured in The Economist. In vintage Walt Kelly fashion, KAL offered caricatures of the candidates as birds of varying feathers — all the way from (Mittus Romnae) the Flustered Upright Front-Running Dork to (Bachmannus Reductae) the Miniature Minnesota Tittering Trite and (Ubiquitous Newt) the Minor White-Haired Bamboozled Skreech and the others.
And this from a relatively disinterested British publication.
(British philosopher Jeremy Bentham once characterized the concept of "natural law" as "nonsense on stilts" — an apt phrase for the Iowa GOP caucuses.)
If these reviews of the caucuses seem a bit harsh, consider how "What a mess!" applies to U.S. Rep. Michele Bachmann and her ballyhooed triumph in the Iowa Straw Poll in August. The press is still trying to explain why her brief front-running status quickly dissolved into a desperate campaign to now exceed single-digit support among GOPers likely to go to the caucuses. The explanations suffer because the press neglects to remind readers that Bachmann's win in the Straw was bought and paid for, with her campaign paying $35 a vote to the Iowa GOP for most of the 4,823 votes she got.
Herman Cain? KAL captures him as the "Southern Blathering Plainspeaking Parvenu…known for its snappy but irksome song 'nnnnine, nnnine, nnnine'."
B. Our long national nightmare is almost over! Despite, or because of A., Jan. 4 will bring some relief that at least we're done with the Iowa caucuses for a few years. In the dozen or so years that I've been writing bits about the caucuses, few commentaries struck a chord with readers as much as did this quote from an Australian website:
"US politics is now a virtually ceaseless election cycle, with eighteen month-long presidential campaigns barely finished before mid-terms begin to loom, before the talent begins assembling for the nomination of the party that most recently lost the White House. At best, policymakers get 6-8 months of clear air before the next round of elections starts dominating the agenda.
"A permanent campaign is no way to run a country. Exhibit 1 — the United States of America."
Just about everyone agrees that political campaigns are too long and too costly. But as we almost catch our breath from the end of nightmare '12, we'll be on to nightmare '16. Which brings us to:
C. Hey! Let's do this again in 2016!
Iowans and the national press remain enamored of the Iowa caucuses. After all, someone has to kickoff each quadrennial nightmare, so why not Iowa? We've got the process so down pat, with all the debates, photo ops and opportunities for political soothsaying that scarcely anyone pays attention to what some cranks would characterize as a mess or a nightmare.
Efforts to do away with the electoral college and to elect the president by a straightforward popular vote are feared by smaller states such as Iowa because the popular vote approach would focus on, say, California and other vote-rich behemoths. Did you know that California has more residents than the 20 smallest states combined? (The count is about 37.2 million to 34.9) Small wonder Iowa Gov. Terry Branstad and others want to keep the electoral college and Iowa's moment in the political spotlight.
Eight more weeks to savor that role.
D. Congratulations on getting an 'A' in the quiz.