Posted at 12:01 pm, November 3rd, 2011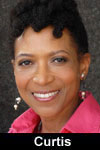 While no one could ever say Condoleezza Rice has strayed far from Republican beliefs – in a recent appearance in Charlotte, N.C., she touted "low regulation and low taxes" as economic solutions – the views of President Bush's Secretary of State on immigration and education reform reveal just how much the party itself has changed.
The Stanford educator's appearance was sponsored by the Learning Society of Queens University of Charlotte, and she seemed comfortable in the crowd of 2,000, talking to fans and students. (Protesters outside were loud but few.) Of course, she talked about her latest book, No Higher Honor: A Memoir of My Years in Washington. But she also spoke on a wide range of other topics, sometimes in way you might not expect.
Taking a long view that a country that has survived and thrived after many crises throughout its history will be all right, Rice said she is an "optimist" about America's future. It is a country that makes "the impossible seem inevitable." Rice called the "great national myth" that "it doesn't matter where you come from, it matters where you're going" America's strength. "You can come from humble circumstances and you can do great things."
But there's a problem when "I can look at your Zip code and tell if you're going to get a good education," she said. When Americans are unemployable and many can't pass the basic skills test for the military, citizens will turn on each other, Rice said. "We will not be confident; we will not lead."
And while GOP presidential hopefuls are competing to see who can say "illegals" most often and most disapprovingly, Rice asked, "When did immigrants become the enemy?" She warned that we must "be careful" in discussing the issue. Yes, she said, people should obey our laws. But she said we must re-affirm that we are "a country of immigrants."
For one whose political, academic and diplomatic career has been so tied to the international stage, Rice, it seems, now sees greater threats to America much closer to home.