Posted at 10:29 am, December 20th, 2011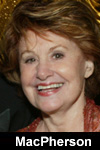 (Myra MacPherson profiled Newt Gingrich for the Washington Post's Style section in 1989.)
Reporters, listen up: Stop calling Newt Gingrich a "scholar." In fact, spend some time learning about his real history.
Yes, Gingrich calls himself a "historian," but there was a time when reporters went to the clips to check things like that. Now, ironically, even with great Internet access, looking up yesterday to help explain today is too often a lost exercise.
Gingrich has been getting the smartest-horse-in-the-race treatment from the media in the roller coaster ride of surging, then fading presidential polls. The "scholar" and "historian" adjectives aren't just used by cheerleading conservative pundits, but by reporters who state it as fact.
The Washington Post just published an embarrassing gusher regarding Newt's smarts — with no examination of  his decidedly more street slugging than scholarly record and use of smears and gutter language against opponents. The piece raved about how he led his children in reading at night. Imagine that.
The pugnacious pit bull of politics — who says he won't speak ill of his opponents, while slicing them up — even gets laudatory headlines for this trait. See, for instance, Americas Greatest Attack Politician, in Slate. In fairness, many were counterattacks, but when Newt Is in the ring nothing is considered below the belt.
The irony is that he is now fading in the polls due to Newt-bashing ads by opponent Ron Paul, who accuses him of "serial hypocrisy" and then, accurately, notes that Gingrich ducked Vietnam, had to pay $300,000 in ethics violations as Speaker and took more than $1.6 million as an advisor to mortgage giant Freddie Mac. He was no lobbyist, insists Newt; he was hired — and these are his own words — as a "historian" to explain the vicissitudes of finance. A real historian would have cost a lot less.
We all know the one-liner that may be appropriate here, given Newt's Republican rivals — "in the land of the blind, the one eyed is king" — but this does not a scholar make.
There is also something much more important than the media's excessive emphasis on Newt, the alleged brainiac — and that is character.
Much of his background and his own comments about his life, revealed 20 years ago, are still waiting to be recycled. They matter because they illustrate much about the man and why he is so comfortable with the arrogant sneer, such as calling Obama "the finest food stamp president in American history."
While my own reporting on Gingrich goes back in time, the peculiar events and statements by colleagues, pastors and professors and by Newt himself, still seem to me to be extreme, even for rabid politicians, even for Newt. Here, for example, are some items from a profile of him that I did in 1989.
For openers "historian" Gingrich could not get tenure in a minor institution, West Georgia College. "Writing, presenting research work was not Newt's forte," said his dean, Richard A. Dangle. When first asked, Gingrich fudged and said he didn't apply for tenure, then changed his story to having had a conversation with the dean who told him he was not going to get tenure "under any circumstances. You've spent four years campaigning, you can't turn now and say, 'let me get on the track."
After Congress, Gingrich used conservative venues like the AEI as holding tanks, while he reconfigured his personal entrepreneurial and political career. Teaching was just a way station during his ambition-soaked climb up the very greasy pole of politics.
As for Gingrich and moral judgments, that climb was littered with discarded friends, wives and colleagues. "Newt doesn't take the low road, he takes the tunnel," Bill Doxey, an English professor and former West Georgia State colleague, said.
And his former pastor Rev. Bretley Harwell, was so disillusioned at Newt's famous dumping of wife number one — bringing her divorce papers instead of flowers while she recuperated from a cancer operation — that he was willing to be quoted. The reverend told me, "You're looking at an amoral person, that's what you're looking at."
Mr. "Family Values" would like all the talk of his admitted extramarital affairs to stop, arguing that he is a grownup now and the issue is unimportant to his presidential qualifications. But this is the man who won the all-time Chutzpah award when he led the "family values" campaign to impeach Clinton for lying about Monica Lewinsky while cheating on his own wife. During his second marriage, Gingrich examined his treatment of women — calling himself an "incredible bulldozer" at work who couldn't metamorphose into a nice guy at home. "I read 'Men Who Hate Women and the Women Who Love them' and I found frightening pieces that related to…my own life," he told me for that 1989 article. When asked if the marriage would hold, he uttered an unemotional mathematical hunch: he gave it a 53-47 shot.
Noting his modern day contemptuous treatment of Michelle Bachman in debates some reporters concluded that sexism still reigns.
Hypocrisy on family values is nothing new for Gingrich, who conned idealists and moderates in Georgia alike into thinking he was one of them. "We created a monster," said former campaign operative H. "Kip" Carter "and I will never be able to do enough good things in my lifetime to balance the scale." After losing twice, in 1978 pit bull Gingrich went for the throat of opponent, Democratic State Senator Virginia Shapard. Gingrich said she would break up her family if she had to go to Washington and an ad pointedly said that "Newt would keep his family together." He was simultaneously cheating on first wife Jackie while conducting this "moral values" campaign. Ray Abernathy, who ran Shapard's campaign, said, "Newt smeared us left and right…Newt is willing to do absolutely anything to get elected and had absolutely no political beliefs at all."
Pudgy pugilist Newt knows that contradictions between voting records and words, between reality and a hyped version of reality, scarcely matter in Twitter time. Nowhere is this clearer than his, shall we say, flexible views on combat.
He ducked Vietnam, then tried to cast it into a noble act: "There was a bigger battle in Congress," he said. That may have surprised any number of wounded vets, but Gingrich explained, "this building decides that people die or that they are free…I see myself as the person who represents the guy in the foxhole."
Despite his "war wimp" record, congressman Gingrich turned the Iran-Contra battle into a hatchet-style vendetta, slamming colleagues as unpatriotic — becoming, as Wisconsin Rep. David Obey said, "a poor imitation of Joe McCarthy." Gingrich belonged to the "God Bless Ollie North" brigade, and those who disagreed were Commie lovers who should wear an "I despise America button," he argued.
Slamming others was Newt's forte — but not necessarily voting in sync with his rhetoric. His constant drumbeat against the "corrupt liberal welfare state" thrilled conservatives. Gingrich argued, "the government could save $277 a day per patient by encouraging home care. " But Gingrich voted against a home care health bill that could, according to some estimates, save billions, Gingrich says the bill would have created more bureaucracy.
He railed at the "cynical compassion of the left, which shows it cares about the homeless by sleeping on a grate under TV lights for one night, and then goes home to hot showers." And yet Gingrich voted against bills to help the homeless. His defense was that the country needed to break out of the welfare state, thus justifying not voting for bills that would help in the interim.
Reporters should examine candidate Newt's so-called brilliant solutions, often vague or recycled from the 1994 Contract With America, which Gingrich co-authored. Detractors at the time nicknamed it Contract On America. His new version predictably would give tax cuts to the rich, repeal the federal health care law, and partially privatize Social Security. He would like to repeal abortion rights.
Controversy was good, he once said while in Congress, because it "becomes the mesmerizing event that people remember you by."
He got his fill of controversy when he proudly bragged that he defeated House Speaker Jim Wright over ethics violations — then became the first Speaker himself to be disciplined and fined $300,000 by the Ethics Committee for 85 violations, including pocketing fundraising money from his GOPAC — which allegedly went to educational purposes. Republican colleagues joined in the lopsided vote, 395-28.
These days, Gingrich seems to be skirting the edge of the same promo-plus-politics mix that drew the attention of the Ethics Committee back then. The now millionaire and his wife number three turn campaign stops into personal book and video selling gigs — not unethical unless he uses campaign funds to line his own pockets, but a murky area for possible shell game maneuvering. It gives new meaning to the peddling of a would-be president. If a question comes up at a campaign stop, he happily announces that he covers the subject in his book which — surprise — is being sold just outside the hall. His Freddie Mac connections are now unraveling in Iowa.
Let us hope the media will stop throwing the cloak of historian/scholar respectability around Gingrich and look a lot harder at the whole package.