Posted at 10:30 am, January 1st, 2012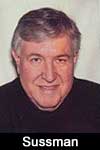 I got an email from my nephew Daniel Sussman the screenwriter. He has been living in Greece for a while and thus has a calm, detached perspective on what's going on in American politics. He wrote:
Okay, maybe this is naive, but…

Just about every sane person is (or a significant number of people are) appalled by the field of candidates vying for the Republican nomination. I would like to know two things:

1. Who are the Republican politicians who are better qualified? Who are the statesmen? These people must exist. And if they don't, make them up. Maybe they're not in Congress. Maybe they're in corporate America.

2. Why didn't they run? Maybe it's time to rethink who should run. Based on these candidates, I'd say it is.

Why not contact a bunch of people and ask them to make a list of people who they wish were running, with perhaps a few words as to why? Might be really interesting.
My own thinking is, polling people to find candidates wouldn't work either. First on the list would be Sarah Palin, I'm afraid – so why bother? The one good thing is, Donald Trump wouldn't make the list at all…but that wouldn't shut him up anyway, at least not for long.
As for Daniel's suggestion that maybe there may be qualified candidates in corporate America – of course there are. Problem is, they can be in charge without the bother of seeking office.
I asked Daniel if I could run his email, with my comments. He said I could. He also said that in asking people to suggest Republican candidates, he meant ones "apart from the obvious choice of Palin, whose decision not to run is the first good decision she's made." He also pushed me a little on corporate America:
"If these other folks exist, the ones who are secretly in charge, or discreetly in charge, then who are they? I would love to know. Who are the 25 most powerful, unelected people in America? That would be a column that I'd read, and could be revisited annually, or it could just be a list of people that other people think should be in the 25. Not a definitive list, but a list of suggestions of who should be included."
So who's in that list? I'd like to know, too.