Posted at 12:30 pm, February 25th, 2012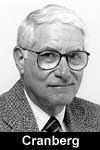 Paul Krugman in a February 17 column noted that many Americans make use of government programs but are oblivious that they are beneficiaries. He quoted a Cornell University professor who found that 44 percent of Social Security recipients, 43 percent of those receiving jobless benefits, and 40 percent of those on Medicare say they "have not used a government program". The professor attributed the denials to respondents who were "confused about their own place in the system." Krugman agrees with the confusion thesis.
There's another, less flattering explanation: the electorate is basically not too bright. Being unaware that Medicare, Social Security and unemployment insurance are federal government programs is well beyond confusion. A person has to be in the neighborhood of dimwitted not to be aware that the Social Security checks from Uncle Sam that arrive in the mail or are deposited in bank accounts are from the federal government. The origins of Medicare coverage or jobless benefits are equally obvious.
Politicians exaggerate and lie because they have a well-founded belief that voters are readily bamboozled. Huge sums are spent on political advertising because there is a payoff at the polls. It takes skill to convince people to vote against their economic interests. That voters regularly do so is testimony both to the expertise of the ad-makers and to the dimness of the audience.

Newt Gingrich declared during the Feb. 22 Republican presidential candidate debate in Arizona that Barack Obama is "the most dangerous president on national security grounds in American history." Gingrich doubtless figures he was on safe ground bashing Obama because his opponents wouldn't dare be caught defending the president. As for the audience, the slurs and questionable comments were flying so thick and fast during the debate that bewildered viewers couldn't be expected to sort fact from fiction.
Another surprising feature of the debate in Arizona was how little of it featured immigration policy. After all, Arizona has been at the center of controversy over the subject. It would have been refreshing if the moderator challenged candidates to go beyond offering platitudes about protecting borders to reminding viewers what migrants have contributed to American life. As the historian Paul Johnson has written:
"History is continually teaching us that the very fact of displacement and resettlement has an invigorating effect on ideas and ways of doing things, and so turns the immigrant into a more efficient economic animal. As far back as the 8th and 7th centuries B.C., impoverished Greek herdsmen and olive growers, leaving their ancient soil, blossomed into merchant-colonists throughout the Mediterranean. In the 19th century, clansmen who had starved in the Highlands, wretched bog-Irish from Clare and Kerry, semi-serfs from Poland, landless peasants from the Mezzogiorno, transformed themselves into enterprising citizens in Ontario and New Zealand, in Boston, New York and Chicago, in the Midwest, Argentina and New South Wales. In our own day we have constantly seen the almost miraculous effect of movement as mainland Chinese settle in Taiwan and Hong Kong, Vietnamese come to California and Australia, and Cubans to Florida."
That's not the picture present politicians paint. Instead of acknowledging the upside of immigration, politicians especially are fixated on fences. It would be smart politics for candidates to remind voters that we are, after all, a nation of immigrants.