Posted at 5:27 pm, April 3rd, 2012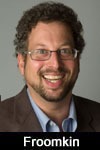 President Obama had a message to journalists in his talk at the ASNE convention on Tuesday. (Here's the transcript.)
That message in a nutshell: The center is not the midpoint between me and the Republicans. It's where I am.
"This bears on your reporting," he said. And he explained:
I think that there is oftentimes the impulse to suggest that if the two parties are disagreeing, then they're equally at fault and the truth lies somewhere in the middle, and an equivalence is presented — which reinforces I think people's cynicism about Washington generally. This is not one of those situations where there's an equivalence. I've got some of the most liberal Democrats in Congress who were prepared to make significant changes to entitlements that go against their political interests, and who said they were willing to do it. And we couldn't get a Republican to stand up and say, we'll raise some revenue, or even to suggest that we won't give more tax cuts to people who don't need them.

And so I think it's important to put the current debate in some historical context. It's not just true, by the way, of the budget. It's true of a lot of the debates that we're having out here.

Cap and trade was originally proposed by conservatives and Republicans as a market-based solution to solving environmental problems. The first President to talk about cap and trade was George H.W. Bush. Now you've got the other party essentially saying we shouldn't even be thinking about environmental protection; let's gut the EPA.

Health care, which is in the news right now — there's a reason why there's a little bit of confusion in the Republican primary about health care and the individual mandate since it originated as a conservative idea to preserve the private marketplace in health care while still assuring that everybody got covered, in contrast to a single-payer plan. Now, suddenly, this is some socialist overreach.

So as all of you are doing your reporting, I think it's important to remember that the positions I'm taking now on the budget and a host of other issues, if we had been having this discussion 20 years ago, or even 15 years ago, would have been considered squarely centrist positions. What's changed is the center of the Republican Party. And that's certainly true with the budget.
I have to wonder: How would political coverage change if this became the new accepted narrative?