Posted at 4:09 pm, April 26th, 2012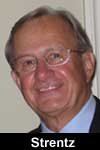 Apparently, the New York Times has not heard that newspapers today are dead or dying.
Or maybe the Times benefits from comparison because so many newspapers are in decline today — not a surprising outcome when loyalty to readers is outweighed by fealty to share holders and bondage to Wall Street analysts and predictions on the next quarter's returns.
Whatever the reason, and however fleeting this moment may be, take time to relish the outstanding reporting, writing and editing the print New York Times continues to offer.
As evidence of such a risky Pollyanna approach, I'd offer up last Sunday's New York Times, as picked up from our Urbandale, Iowa, doorstep and devoured over the next few days.
(My experience called to mind a New Yorker cartoon from 25 or 30 years ago. A guy is sitting on the beach, reading a newspaper and the beach is littered with pages blown away by the wind — almost seems the pages outnumber the grains of sand. He shouts to a spouse, "Nothing, dear, just reading the New York Times.")
Okay, so like most readers, I don't read every line. But consider:
The top offering of a day was a lengthy, even for the Times, article on WalMart paying bribes to Mexican officials to assure the company's boom times in that nation.
The sports section offered a feature on Amantle Montsho, 28, one of the fastest women in the world, who is favored to win Botswana's first Olympic medal in London this summer. And Mary Pilon went to Botswana for the story about Ms. Montsho and her family. (Stories like that in the Times sports section make me wonder why, Frank DeFord aside, I continue to subscribe to Sports Illustrated.)
Meantime, closer to home, Charles Isherwood had to travel just down the street for a riveting article on the revival of Death of a Salesman and theater goers' response to that classic.
Fantastic! The Times was the textbook case of why we rightly mourn the decay of so many newspapers today and the blend of sociology, politics, literature and other insights to the human condition that good journalism in general and newspapers in particular have offered us over the past century.
I was going to add some lines, too, about the great bonus we get in books written by Times reporters — like Tim Weiner's recent one on the FBI — but then I ran across a piece by the paper's recent editor, Bill Keller. He thought maybe books by reporters should be banned!
The Times, day in and day out, may not be as outstanding as the edition I devoured over the past few days. But you've got to give them credit for being way up there. And please don't tell them newspapers are dead.