Posted at 11:10 am, February 22nd, 2011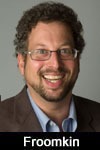 House Speaker John Boehner last week sent President Obama a  statement signed by 150 self-described economists (most of whom you've never heard of) calling for immediate spending cuts in the name of job creation.
"To support real economic growth and support the creation of private-sector jobs, immediate action is needed to rein in federal spending," they wrote.
In their view, the forces causing high unemployment include the increasing national debt "and the increased burden small businesses face as a result of the new health care law and other regulatory challenges that create uncertainty for private-sector job-creators."
Their proposed solution: "[E]liminate unnecessary federal spending, prevent tax  hikes, stop regulatory threats to job creation, and enact reforms to put our nation back on a true path to prosperity."
The only thing we know for sure about cutting government spending is that it will have a dramatic short-run effect on jobs: It will eliminate a lot of them. You don't even have to be one of those crazy hippie Keynesians to believe that.
Lawrence Mishel, president of the Economic Policy Institute, thinks there are some questions the signers should have to answer.
"The conservative argument is really about generating longer-term growth, at best," Mishel said. He called on some "enterprising journalist/blogger" to ask the most prominent signers:
What do they say is the job impact of their budget policy?
What's the economic logic that connects spending reductions to short-run job increases?
How many more jobs will we have a year from now? Or two years from now?
"An honest conservative would believe that what they're doing is good policy and, in the long run, will be good for income and jobs," Mishel said. "But if unemployment is expected to be 8% at the end of 2012, how will it be if they have their way? No one asks."