Posted at 12:29 pm, December 20th, 2006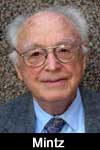 Researchers believe a simple fact explains a startling 15 percent decline in breast-cancer rates in the 16 months ending in December 2003, the New York Times reported in a Dec. 15 story: "[M]illions of women abandoned hormone treatment for the symptoms of menopause after a large national study concluded that the hormones slightly increased breast cancer risk."
Later in the story, Gina Kolata wrote: "The use of estrogen to treat menopause took off in 1966, when a doctor, Robert Wilson, wrote the best-selling book 'Feminine Forever' and flew across the country promoting it. He insisted that estrogen could keep women young, healthy and attractive. Women would be replacing a hormone they had lost at menopause just as diabetics replace the insulin their pancreas fails to make. Before long, the menopause drugs, and in particular Prempro, from Wyeth, a combination of estrogen and progestins, became one of the most popular drugs in history."
The press played a significant role in promoting Dr. Wilson, who has his counterparts today in physicians who promote one or another prescription drugs without disclosing that they are on the take from manufacturers. See, e.g., this Dec. 13 Wall Street Journal story: Drug Firm's Cash Sways Debate Over Test for Pregnant Women.
You'll find much bad news plus a dab of good news about the press and cancer-causing hormones in my out-of-print book, The Pill / An Alarming Report, which was based on my reporting for the Washington Post, and which was first published in 1979. Wilson, a Brooklyn, New York, gynecologist, I wrote in the book [with boldfacing here added],
… was syndicated by newspapers, excerpted by Look and Vogue, made tantalizing by Time. With doses of synthetic estrogen,…and of a synthetic progestogen, he said he could make sex more enjoyable "regardless of age," and told of his "crash program" to prepare a 72-year-old English woman for her wedding night….
On March 19, 1966, writing in The New Republic, James Ridgeway and Nancy Sommers reported that the Wilson Research Foundation, headed by Dr. Wilson, had received, in 1964, $17,000 from the Searle Foundation, which was created by the Searles of G.D. Searle & Company; $8700 from Ayerst Laboratories,, and $5600 from the Upjohn Company [all manufacturers of synthetic hormone products].
Unsurprisingly, Wilson promoted his funders' products while pretending not to do so. For example, as I wrote in The Pill, he "claimed that the menopause could be prevented with the use of birth control pills. When he shunned mention of Searle's Enovid, he spoke of norethynodrel, a synthetic progestogen found only in Enovid…The Searle firm was Dr. Wilson's research sponsor.
In November 1966 the Food and Drug Administration notified the company that Dr. Wilson had "publicized the use of Enovid in lay publications,…Our investigational drug regulations provide that neither the sponsor nor anyone on its behalf may disseminate promotional material claiming that the drug has been shown to be effective for the conditions for which it is being investigated. Dr. Wilson has disseminated such information. He is therefore unacceptable as an investigator for 'Enovid in the Menopause.'"
If much more of the press than a small-circulation magazine, followed by one major newspaper, had been quick to become a watchdog rather than a promoter of Wilson, large numbers of women who now have abandoned hormone treatment for the symptoms of menopause would not have begun it in the first place. Many would not stricken by breast cancer, and some who died of the terrible disease would have lived. The precise numbers will be forever elusive, of course. But one thing is for certain: Journalism should be forever wary of books and "news" that circulate and even hype what may be delusions invented by frauds.