California demonstrators against fee increases in 2004-05 state budget. (AP Photo/Rich Pedroncelli)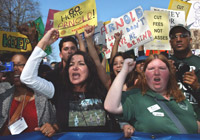 Update: Tuition at public universities rises another 10.5 percent
ASK THIS
2004 increase is second highest ever; highest was last year.
We first suggested stories on the cost of college tuition in May 2004. Now comes the College Board with new figures on soaring costs. The story is still there, asking to be done.
By Barry Sussman
Q. We've heard a good bit this election campaign on 'Leave no child behind,' but only a little on the problem of college tuition costs. It's our guess that tuition, which has soared for so many years, has now made college education unattainable for many young people. So the first question is, is that correct? How many aren't going to college because of unmanageable tuition costs, and how different is that from conditions five, ten, twenty years ago?
Q. In your area, are candidates in local and state elections talking about college tuition as an issue? What suggestions do they have? Do they even discuss it?
Q. What's the story from inside universities? Are there ways for students to get around high tuition costs?
Q. And what do high school principals and counselors say: How have high tuition costs changed the way they deal with students, if at all?
Last October CNN-Money reported that state schools had posted the biggest increase in tuition costs in 30 years, according to the College Board.
The cost for one year at a four-year public university – including tuition, fees, room and board -- rose 9.8 percent to $10,636 from $9,689 last year, according to a report by the board, a nonprofit association that runs college programs and services, including the SATs. As CNN-Money noted, "That's an especially big jump considering that inflation, as measured by the consumer price index, has been just above 2 percent for the past six months."
With books and transportation included, the annual cost at a state school was $13,833, up from $12,841 in 2002. Tuition alone at state schools rose 13 percent adjusted for inflation.
Increases were more modest but costs far higher at private colleges. Costs rose 5.7 percent to $26,854. Include books and other items and the total was to $29,541, up 6.7 percent.