Posted at 5:06 pm, December 12th, 2007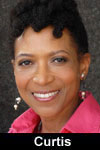 The Oprah-Obama show was all over the news this weekend. Sure, Winfrey's celebrity and clout signaled the perfect blend of pop culture and politics that has become routine. If Barbra Streisand starts touring with Hillary Clinton, expect more of the same.
But as someone who was there to witness the crowd of nearly 30,000 file into Williams-Brice Stadium in Columbia, S.C., to hear Oprah Winfrey talk about her candidate for president, I know they were not hoping for a free Pontiac.
The people I spoke with were there to hear the other "O," Sen. Barack Obama. They were ready for his message, with Winfrey the extra that might sway someone else's vote, but not theirs. This presidential season, the issues are too serious, the stakes too high.
The coverage deserves that same level of seriousness.
"Oprah feels what I feel," said Theresa Pierce, 43, a business owner from Clermont, Fla., and a grass-roots Obama supporter. Winfrey's presence, she hoped, would introduce voters to the senator. If Oprah believes it's possible, maybe others will "follow their hearts, listen to his message and vote that way."
Winfrey was serious, too. "I'm not here to tell you what to think," she said. "I got some sense. I know the difference between a book club and this seminal moment in our history." She walked onstage to Aretha Franklin's "Think," after all. But a thoughtful, sometimes hoarse Winfrey was clear about where she stands.
"In the past, I've been disappointed by politicians," said this daughter of the South. "…Now is the time for somebody like Barack Obama," who can "penetrate the political rhetoric."
Winfrey – as difficult as it is to imagine – seemed overwhelmed, until she roamed the stage, making points political and personal.
Can anybody besides Winfrey get away with saying, "Apathy is the attitude that disappointment is normal"? Everybody knows her. That's the thing. And they trust her.
Despite tough times, Winfrey made her own dreams come true, which added symbolism to her dismissal of those who say Obama "should wait his turn." She asked the crowd: Where would you be if you had waited every time someone told you to? Where would I be?
I was struck by the power, the history of that moment.
On Sunday, in front of a predominantly black crowd, many still dressed for church, the candidate was as relaxed as I've ever seen him.
He criticized candidacies based on poll testing and dropped words like triangulation, managing to tweak Hillary Clinton without once mentioning her name.
He referenced Dr. Martin Luther King Jr.'s "the fierce urgency of now" and sounded a bit like a preacher himself. He and Winfrey share improbable life stories, he said. "Nobody could expect we would be on this stage today." He said, "Our moment is now," and Winfrey – sitting behind him – mouthed the words.
He held his own between two strong women, his wife, Michelle, being the other one.
Former President Bill Clinton attended worship services in Charleston the same day with his wife's supporters. When they checked the tightening poll numbers, I'm sure they all said a few prayers.
But this is not about Bill vs. Oprah. It's serious.