Posted at 1:04 pm, January 29th, 2007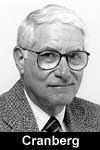 Vice president Cheney became especially testy
during a recent interview with CNN's Wolf Blitzer when the subject turned to the pregnancy of Cheney's unmarried daughter, Mary. Twice Cheney bluntly told Blitzer, "You're out of line" when Blitzer asked the vice president to respond to conservative critics of Mary Cheney's decision to "conceive a child outside of the relationship of a married mother and father."
Instead, the vice president declared, as he often does, how delighted he is at the prospect of "a sixth grandchild." Try as Cheney does, however, to pretend that it is simply another impending birth in the family, this one is very different.
The difference, of course, is that unlike the other five grandchildren, who are the offspring of married parents, there is no married couple in Mary Cheney's lesbian household. It was not long ago that, when a child was born out of wedlock, it would be stigmatized as illegitimate or worse. Nowadays society has progressed to the point where the preferred term is "nonmarital child." That helps remove or minimize stigma but it does not eliminate the disadvantage of being without parents who have a legally recognized relationship.
The Massachusetts Supreme Judicial Court described the disparity in its 2003 ruling in Goodridge vs. Department of Public Health that held the state may not deny "the protections, benefits, and obligations conferred by civil marriage to those individuals of the same sex who wish to marry." The court declared:
Where a married couple has children, their children are also directly or indirectly, but no less auspiciously, the recipients of the special legal and economic protections obtained by civil marriage… The fact remains that marital children reap a measure of family stability and economic security based on their parents' legally privileged status that is largely inaccessible, or not as readily accessible to nonmarital children. Some of these benefits are social, such as the enhanced approval that still attends the status of being a marital child. Others are material, such as the greater ease of access to family-based state and federal benefits that attend the presumptions of one's parentage.
Public discussion of whether same-sex couples should be able to wed or to have some other type of legally-recognized relationship usually takes place in the context of the preferences of the couple. Not enough attention has been paid to the interests of children who, through the advent of high-tech fertilization, will be born increasingly to same-sex partners.
Mary Cheney's high-profile pregnancy ought to be the occasion for reflecting on how laws against same-sex unions adversely impact children. Instead of tangling with the press about Mary Cheney, the vice-president should be tangling with those whose campaigns against gay marriage are counter to the interests of his sixth grandchild.