Posted at 7:30 pm, September 5th, 2008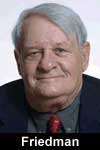 A couple of months ago, in the seniors column I write on my day job for Newsday, I rejected age as an issue in the presidential campaign. But I added, "if age is to be a factor in the coming race… perhaps the most important issue may be whom Sen. John McCain, 72, chooses as a running mate."
This has not been much discussed in the press, except in passing. Younger journalists may be defensive writing about age or John McCain's mortality. But I am in my seventies and understand the problems that can come with aging. Older people are more at home talking about age without being accused of ageism. And we can talk about mortality, ours or McCain's, without being morbid.
Therefore, no matter what your politics may be, McCain's age suddenly has become an important issue in this presidential campaign. How can the press, or the rest of us, avoid it when McCain, 72, chooses as his vice-president Alaska Gov. Sarah Palin, 44, who has served in that office less than two years and whose only other elective office has been on the city council and as mayor of her tiny home town, Wasilla, (pop. 6,715)?
It does not belittle these accomplishments, but it is a huge understatement to suggest that she is not ready or qualified to become President of the United States should something happen to McCain, who will be near 73 if and when he assumes office, old enough to be Palin's father. One wonders not only about his choice, but whether she realizes the risks to the country she says she loves. She could have said, "Thanks, but I'm not ready to take charge of the nuclear launch codes."

Three times since 1945, vice-presidents have succeeded to the presidency when it became vacant. And four times vice-presidents won the White House on their own, but they were people with vast experience in government and international affairs so that there was continuity in one of the most powerful offices in a dangerous world. That gave confidence to America and its allies and pause to potential adversaries.
As I noted on June 21, McCain's age, in and of itself, should not be an issue. But McCain was badly injured when his plane was shot down over Vietnam in 1967; he suffered physical torture and psychological trauma during more than five years as a prisoner, and since 2000 he has had surgery at least twice for melanoma, an especially dangerous form of skin cancer. As someone in my seventies who has been through illness, I know the risks and possible consequences of aging. Doesn't McCain? Shouldn't we ask?
We still do not know when Alzheimer's first attacked President Reagan, who was 77 and a cancer survivor when he left office. Franklin Roosevelt, we learned much later, was a sick man during his last year in the presidency, although he was only 63 when he died. Dwight Eisenhower was 65 when he had a heart attack while in office in 1955 and almost did not run for a second term.
As another seniors writer, Ronnie Bennett wrote in her online column, Time Goes By, earlier this month, "Palin's lack of political and governing substance is critical to the issue of McCain's age."
His history as a POW, the injuries from which he still suffers, and his recurring melanoma "make it McCain's professional and personal responsibility as a citizen and leader to choose a qualified vice-president who can carry on the office of the presidency….In the most fearfully anxious and uncertain times in memory, he failed that responsibility catastrophically."
Here's an irony. McCain's experience as well as his age made him a favorite among many older voters, according to polls by Pew Research. But older people know some of the problems of aging, especially for someone in his seventies with the responsibilities of the presidency.
The seemingly hasty choice of Palin, 44, with five children and a grandchild on the way, may only underscore her contrast with McCain's age among older voters, especially women, as well as younger voters who, according Pew, believe (mistakenly) that a person over 70 is too old for the vigors of office. While many older voters may share McCain's conservative values, they are wary of his positions on Medicare and Social Security. He has proposed cutting Medicare benefits and converting part of Social Security into individual investment accounts.
In addition to calling attention to his age, if not his judgement, McCain's choice undercut his own argument that his rival Sen. Barack Obama, lacks sufficient experience to be president, which had been a plus for McCain among older voters. Sen. Joseph Biden, as a potential vice-president, would instill more confidence in older voters than Palin.
Older voters, I've learned, tend not to be extreme; age tempers us all. Therefore, my guess is that older voters will not be impressed with Palin's rather extreme religious views, her Christian fundamentalism, her belief in creationism, her opposition to abortion even in the case of rape or incest, her opposition to sex education and her insistence, even in the face of her daughter's pregnancy, that schools should only teach abstinence. I can hear the sighs of parents and grandparents among our readers who know better.
Finally, while older voters–especially women–tended to support Sen. Hillary Clinton over Obama because she was an experienced known and he was less experienced and unknown, that doesn't mean they are now likely to support McCain. That might have been the case if he had chosen someone equally experienced who could assume the presidency. Older Americans, with memories, value continuity rather than abrupt, unpredictable and wrenching change.
While McCain's mother is in her nineties, his father died when he was 70. McCain jokes that he's "older than dirt and I have the scars to prove it." It's no joke that McCain, who is not in the best of health and tires easily, is approaching the average life expectancy for white men, just over 77. Which means that there is a fair chance his choice for vice president could indeed become president. Is that what McCain intended? Shouldn't this become an important issue?